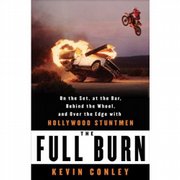 Hollywood — On a recent afternoon, the writer Kevin Conley sat in a rental car driven by Sean Graham, a tanned, ripped stuntman who hadn't slept for 72 hours. The two spent some time kicking up dirt on a back road in Griffith Park, burning out the car's clutch, driving with two wheels on the curb and stripping the life out of a very sad emergency brake.
"I got all the insurance!" shouted Conley, 48, from the back seat. "The most I'll have to pay if it's totaled is $500."
With that, he took over and was skidding downhill toward a reverse 180 when a ranger's truck showed up in the distance. Conley and Graham settled down, like teenagers whose mom had caught them sneaking a six-pack of beer. They began rehearsing what to say if they were pulled over.
"Good thing we're not saucin'," offered Graham.
Stunt driving isn't everybody's idea of a good time, but Conley - a short, rotund New Yorker in geek-chic Ray-Ban glasses and black T-shirt - thrilled to his friend's down-home insouciance and stories of crashes and near misses.
"Actors are always smaller than life," he said, after Graham left in a whirlwind of tall tales. He means not just physical stature but presence - actors often blend into the background or observe others. "But the stuntmen are the actual sexy guys on the set. So the reaction you expect a movie star to get you often get from a stuntman. It's real theater."
Graham, who did Mark Wahlberg's stunts in "The Italian Job," was one of hundreds of stuntmen Conley met while writing "The Full Burn: On the Set, at the Bar, Behind the Wheel and Over the Edge With Hollywood Stuntmen." The book tells the field's history mostly through magazine profiles of stunt stars and was just released by Bloomsbury.
Conley's recurring subject is "the passionate subculture," with its own argot, personal code and value system.
"I like to make accessible a very arcane art," he said later at a downtown Los Angeles coffee shop, "and make people appreciate what you would never see."
He has spent part of his career writing about dance and is interested in capturing the body in motion. "With stunts it's kind of like male choreography. It's macho dance."
Athletic pranksters
Growing up in Detroit, Conley was more interested in Latin and Ingmar Bergman, both of which he studied at Yale, than gear-head chatter. But he picked up car talk, he says, "by osmosis," whether he wanted to or not.
After college, he became a kind of stunt journalist: He spent 10 years or so in New York, producing clever, bemused pieces on poker, roller coasters and NASCAR and writing "Stud: Adventures in Breeding." (He describes the amorous emissions of the Thoroughbred horse Storm Cat, whose stud fee, at his peak, came to $500,000, as "probably the most expensive 30 seconds" in sports.)
Conley met Graham and other stuntmen while doing a New Yorker story on a movie called "The Punisher," based on a Marvel Comics character. "Full Burn" - the name of a fiery stunt Conley has tried himself - also looks at Jeff Galpin, a wily Cajun who wrangles gators; Mike Kirton, a hard-drinking wild man who has been declared legally dead on sets twice; and Debbie Evans, "the Meryl Streep of stunts," who has triumphed over the field's institutional sexism.
Despite some variation, the stuntman type is pretty consistent, according to Conley.
"They're more sophisticated than most athletes," he said. "Because for many of them, their careers start out with a certain disappointment, either because they found themselves the best at a sport that has no market or they've had a crushing injury.
"Terry Leonard had thrown out his back in the (Canadian Football League), and so he came in with a sense of mortality, even as he did some of the greatest stunts on film. He's the one who went under the truck in 'Raiders of the Lost Ark.'"
And because working stunts - or "gags" as they've been called since the Keystone Kops - means a lot of waiting around on film sets, stuntmen tend to be gregarious and imaginatively prankish. (Their marriages, perhaps for related reasons, typically don't last long.) The down time also leads them to hone skills as storytellers, which benefits Conley's book.
"It's like any locker room," he said, "but they're better because they've got time to perfect it. They call what they do 'gags,' and when they're not doing one on set they're trying them on each other. The film clip of their pranks would be as good as the clips of their stunts."
New breed of stuntman
Part of what made Conley believe he had a book was learning about the evolution of the field. The old days of stunting, he said, were wild. "Like much of American industry, it was very dangerous, carelessly approached, haphazard." For a sense of what that period was like, he refers to the oil-drilling mishap that begins "There Will Be Blood."
"People have a vision of the crazy stuntman who drank and was devil-may-care and did crazy things - well, half the country was that way. Everyone was doing a three-martini lunch."
Things are different now for many reasons, including the demise of westerns (in their heyday, stuntmen often came from the rodeo world), the influence of Cirque du Soleil, computer-generated imagery and Asian martial arts. Gangster movies (in which stuntmen fell through glass windows) led to the car-chase era (Steve McQueen's Mustang skidding down the streets of San Francisco in "Bullitt") and then to Carrie-Anne Moss piloting a motorcycle on the freeway in "Matrix Reloaded." Today's breed, derided by veterans as "BlackBerry guys," is saner.
"Like much of the culture," Conley said, "they're more in shape, much more serious about it. They're athletes who realized they have to spread out their earning years, take care of their bodies.
"They hate it that everybody wants to see them with broken bones - that would be a bad job. That would ruin their reputation."
'Amusing idiosyncrasies'
Conley is a witty, at times beautiful writer: His restaurant reviews at the New Yorker, where he was an editor until going freelance in 2004, are masterpieces of concision.
"Stud" was well received; one reviewer compared his prose to the writing of Bill Bryson and P.J. O'Rourke. Some, though, were critical: The Washington Post's Nan Mooney enjoyed his humor but added that "Conley's romp through the breeding industry is too often confined to cataloging such 'amusing idiosyncrasies' rather than tackling larger issues." Jane Smiley, in the Los Angeles Times Book Review, wrote that the book "just skims the surface."
The strengths and weaknesses of "Stud" and "The Full Burn" derive in part from the way Conley sees his mission. Although he's an intellectual guy, he's not especially interested in analysis or stepping back.
In college, during the 1970s and early 1980s, he majored in theater. It was a time when the ideal was Method acting. Conley worshiped performers who turned themselves inside out, the way Robert De Niro transformed himself, psychologically and physically, into boxer Jake LaMotta for "Raging Bull."
"That's always been my ideal of total immersion," Conley said. "De Niro just lived it. And I think I get to do that - without putting myself or my performance in the center of it. I'm getting to play those roles."
Copyright 2018 The Lawrence Journal-World. All rights reserved. This material may not be published, broadcast, rewritten or redistributed. We strive to uphold our values for every story published.