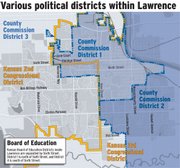 Jim Ryun
Residence: Lawrence
Birthdate: April 29, 1947
Family: Wife, Anne, for 39 years, four adult children and eight grandchildren
Religion: Protestant
Education: Bachelor of Arts degree from KU, 1970
Occupation: Founder and president of Jim Ryun Sports Inc.
Political and government experience: U.S. House of Representatives 1997-2007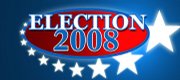 In-depth coverage of the candidates and the issues, all leading up to the Aug. 5 primary and the Nov. 4 general election.
She's a tax hiker, he voted for amnesty. Those are among the various charges being leveled in the race between Lynn Jenkins and Jim Ryun in the Republican Party primary for the 2nd Congressional District.
The contest simmered for more than a year, but has boiled over in the past couple of weeks with negative ads and heated charges as the candidates sprint toward the finish line.
The winner will face U.S. Rep. Nancy Boyda, D-Topeka, who defeated Ryun in 2006 in the wave of Democratic victories that overturned the Republican majority in Congress. The 2nd District includes west Lawrence, Topeka, Manhattan and much of southeast Kansas.
The national Republican Party sees Boyda's win as something of a fluke, and has made it one of its top priorities to try to defeat her in November.
That may be the reason for the spike in intensity in the Jenkins-Ryun primary.
Ryun has noted he voted for tax cuts during his 10 years in Congress while Jenkins, currently the state treasurer, followed her leaders in voting for tax increases when she served in the state Senate in 2002.
But Jenkins has said the Legislature had to raise taxes to balance the state budget during an economic slump. In addition, she said, the Legislature's job was more difficult because of federal mandates coming from Congress when Ryun was there. She often notes that Ryun was part of the Republican congressional majority that increased spending and debt.
Meanwhile, Jenkins has accused Ryun of voting for amnesty for illegal immigrants, frivolous budget earmarks and congressional pay raises for himself at the expense of a bonus for soldiers.
Ryun has said Jenkins has taken his votes out of context.
The immigration votes cited by Jenkins included Ryun's support of Haitian, Cuban or Nicaraguan refugees or those seeking asylum, and extending a previous amnesty program.
Ryun said he opposes amnesty for illegal immigrants and voted for building a fence along the border with Mexico. He also said he opposes earmarks. His votes for earmarks while in Congress were part of larger bills that were good for Kansas, he said, although Jenkins said several were straight up or down votes for projects like an aquarium in Cincinnati.
On the troop bonus issue, Ryun's campaign has accused Jenkins of "grossly misleading voters."
The dispute is over votes by Ryun in 2001 and 2003 to increase his congressional pay. Then in 2003 he voted against a $1,500 bonus for every soldier serving in Iraq and Afghanistan. Since the bonus failed in the House on a 213-213 vote, Jenkins says if Ryun had voted for the bonus it would have passed.
But the Ryun camp said he voted against the bonus because it would have been paid for by redirecting critical funds to safeguard troops and civilians in those wars.
Jenkins, however, has said 2nd District voters have already shown Ryun the door with their vote two years ago.
"I think you had your chance," Jenkins said to Ryun during the candidates' only televised debate. "It's time to send someone else to Washington."
But Ryun has argued that while he stumbled in the 2006 election, he attributed much of his defeat to the fact that big Democratic vote-getters, such as Gov. Kathleen Sebelius, were at the top of the ticket.
On abortion, Ryun has been endorsed by groups that oppose abortion. Jenkins has the support of pro-choice groups, although as a state legislator she has voted for a ban on so-called partial-birth abortions and a parental notification requirement for minors.
As far as money goes, through mid-July, Ryun had been out-raising and out-spending Jenkins. He raised nearly $1.7 million and spent more than $1.5 million, while Jenkins had raised $641,000 and spent $265,000.
Copyright 2018 The Lawrence Journal-World. All rights reserved. This material may not be published, broadcast, rewritten or redistributed. We strive to uphold our values for every story published.