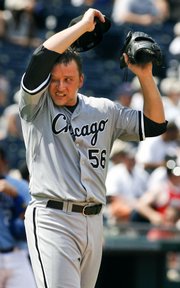 Kansas City, Mo. — Mark Buehrle picked a terrible time for a wretched start.
His Chicago teammates hit four home runs, twice going back-to-back on a muggy, sweltering Saturday afternoon. But the Kansas City Royals rapped out 19 hits and went deep three times themselves in a come-from-behind 9-7 victory.
"Buehrle's a great pitcher," said Billy Butler. "More times than not he's had our number. To get on a guy like that, it just shows it was our day at the plate."
Butler, Miguel Olivo, Ross Gload, Mike Aviles and Esteban German all had three hits for the Royals, who had their most hits since getting 19 against Detroit on Sept. 29, 2006. German had an RBI single and two-run triple, while Butler, Olivo and Jose Guillen all homered
"The Royals' bats were as hot as the weather," said White Sox manager Ozzie Guillen.
Buehrle (8-10), a Royals nemesis much of his career, had his shortest and worst start of the year, giving up a season-high eight runs in 41â3 innings. He also hit a batter.
The 14 hits tied a career-high for the left-hander, who'd been 6-3 with a 2.14 earned-run average in his 10 previous starts and 17-7 lifetime against Kansas City.
"I don't know if I could try to go out there and give up 14 hits," he said. "It seems like I was making some pitches and they were hitting them, and then there were times when I was missing my spots and they were hitting them pretty hard. It just was one of those days."
A game-time temperature of 95 degrees and a heat index of 111 caused Ken Griffey Jr. to be lifted in the sixth for what the White Sox described as heat-related cramping in his right leg. He was 0-for-2 in his second game with Chicago, but Ozzie Guillen said he would play today.
Jim Thome and Paul Konerko had back-to-back home runs in the second, staking Buehrle to a 3-0 lead over Kyle Davies (5-2). With the Royals leading 8-3 in the eighth, Brian Anderson and Jermaine Dye hit back-to-back shots off Ron Mahay to trigger a four-run rally.
Reliever Ramon Ramirez then walked Konerko and gave up an RBI double that made it 8-6.
All-Star closer Joakim Soria came in and pinch hitter A.J. Pierzynski made it 8-7 with a sacrifice fly before Juan Uribe struck out with the tying run at third. Soria worked the ninth for his 31st save in 33 opportunities.
"That's why he's our man," Butler said.
It was more or less a typical game for the White Sox, who started the day clinging to a half-game lead over Minnesota in the AL Central. They lead the AL with 76 home runs but have an ERA of 6.12 over their last 18 games.
"We are not pitching," Ozzie Guillen said. "I don't care how many (Griffeys) we bring in here. We've got to start pitching better. You got to go out there and do it."
Butler's two-run shot in the third put Kansas City on top 4-3, and Jose Guillen added a solo homer in the fourth.
German, subbing for injured second baseman Mark Grudzielanek, boosted the Royals to an 8-3 lead with a two-run triple off Ehren Wasserman in the fifth.
Following Konerko's home run, Davies retired the next 11 batters and went 51â3 innings for his second straight victory.
"After the Konerko home run, I kind of stepped off the mound and said, 'OK, take a breather. It's 3-0 and you haven't got an out in the second inning, so let's just settle down and throw some strikes,"' said Davies.
He was charged with three runs on five hits.
"They're built for the home run, and they do hit them," Davies said.
After Buehrle hit Mark Teahen leading off the third, Butler slammed a 2-1 pitch over the fence in left. German's RBI single scored Aviles with the Royals' fifth run in the fourth, but he was caught stealing just before Jose Guillen hit his 15th home run for a 6-3 lead.
Carlos Quentin's infield grounder brought home Orlando Cabrera, who had opened the game with a double, for Chicago's first run. Then on successive 1-0 pitches in the second, Thome and Konerko went back-to-back for a 3-0 lead on the oppressively hot, humid afternoon.
"You get to where you're completely soaked and you keep going into the dugout and drying out," Davies said. "As soon as you get back on the mound, you're drenched again."
Notes: The Royals designated RHP Yasuhiko Yabuta for assignment, deciding not to return the pitcher they signed to a two-year, $6 million contract back from Triple-A Omaha. ... Grudzielanek was put on the 15-day DL with a right ankle sprain and INF Jason Smith was brought up from Omaha. ... Griffey snapped his 17-game hitting streak against Kansas City that had dated to 1998.
Copyright 2018 The Associated Press. All rights reserved. This material may not be published, broadcast, rewritten or redistributed. We strive to uphold our values for every story published.