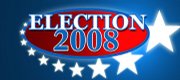 In-depth coverage of the candidates and the issues, all leading up to the Aug. 5 primary and the Nov. 4 general election.
Republican officials are hoping Nick Jordan is the one who can unseat Democratic incumbent U.S. Rep. Dennis Moore in the 3rd Congressional District.
Jordan, a state senator since 1995, faces Paul Showen, a retired construction worker and real estate agent, in Tuesday's GOP primary.
The winner goes against Moore, a five-term incumbent, who has repeatedly been targeted by Republicans in the GOP-leaning district.
The district includes east Lawrence and all of Johnson and Wyandotte counties.
Jordan has been running against Moore for months and has roughly $616,000 on hand compared with Moore's $1.1 million. Showen, who ran for the GOP nomination in 2006 and finished last out of four candidates, has shown no campaign contributions.
Jordan has touted his experience in the Legislature working on measures aimed at improving the economy, such as the legislation that started the Kansas Bioscience Authority.
Showen said if elected he also would focus on the economy. He said he favors a 10 percent flat-tax rate on income and the removal of taxes on businesses and corporations.
Copyright 2018 The Lawrence Journal-World. All rights reserved. This material may not be published, broadcast, rewritten or redistributed. We strive to uphold our values for every story published.