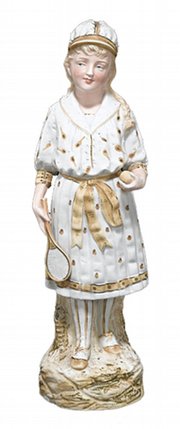 Tennis is an ancient game first played in Greece. It's mentioned in a play in the Middle Ages when a shepherd gives a tennis ball to the baby Jesus.
Early tennis games were played without rackets; the ball was hit with a bare hand, then later a glove. By the 16th century, a racket was used, and the tennis court was established. The game was a popular recreational sport in France by the 17th century, but it was not until the 1850s that the modern game of tennis was created.
A tennis club was formed in England in 1872, tennis games were first played in the United States in 1874 and the U.S. Open started in 1881. There was special dress for tennis even then. Women wore properly modest outfits: a dress with a below-the-knee skirt, high neck and elbow-length sleeves, along with high socks and a prim cap. Men wore knickers, long-sleeved shirts with collars, high socks and the same type of cap.
Tennis-related figurines have been made by German, French and English companies. The appropriate dress, racket and balls were all part of the ceramic figure. Any sports-related figurine is popular today, and those from the 19th century bring high prices.
Q: I have a plastic chair my mother gave me. She said I used it as a little boy 40 years ago, but that the chair is at least 75 years old. The marks on the back say "Martest by Virco, Los Angeles, Calif., Conway, Ark." Can you tell me the chair's history and value?
A: Your chair is not 75 years old. Virco Manufacturing Corp., headquartered in Torrance, Calif., is a leading U.S. manufacturer of furniture for K-12 schools. But the company wasn't founded until 1950, and a spokesman for Virco told us your chair is probably from its 9000 Classic Series line of one-piece soft plastic chair shells, introduced in 1965. "Martest" was the trade name for the chairs. They came in eight heights, ranging from 11 inches to 18 inches, and were made in blue, yellow, beige, green and orange. Virco introduced hard plastic chairs in the 1970s, and since then the Martest name has been used for a hard plastic line.
Tip: The 18th-century bookcase had shelves that were placed symmetrically. If the bottom shelf is 8 inches from the base, the top shelf should be 8 inches from the top. If the permanent grooves for the shelves are not spaced this way, look carefully to be sure you have an antique piece.
Current prices
Prices vary in different locations.
¢ "Hurrah For Schirra" space flight commemorative button honoring astronaut Wally Schirra, "Six Orbits around the Earth," black and white photo in center, red, white & blue edge, 1962, 3 1/2 inches, $130.
¢ Nickel silver hobo knife, dog-head emblem, fork doubles as bottle opener, Union Cutlery, New York, pat. Nov. 5, 1907, 9 1/2 inches unfolded, $365.
¢ Abercrombie & Fitch martini pitcher and four glasses, embossed "Half Shot," pitcher also embossed "Magnum," 1940s-'50s, $400.
Copyright 2018 The Lawrence Journal-World. All rights reserved. This material may not be published, broadcast, rewritten or redistributed. We strive to uphold our values for every story published.