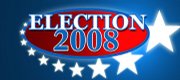 In-depth coverage of the candidates and the issues, all leading up to the Aug. 5 primary and the Nov. 4 general election.
Douglas County Commission candidates
Second District
Third District
Decisions by two Douglas County commissioners not to seek re-election this year spurred new interest among candidates who have lined up to replace them.
It shows that there is still a lot of interest in decisions that affect the rural areas, said Craig Campbell, chairman of the Douglas County Republican Party.
"It's also easier to get involved when you are not running against an incumbent," Campbell said.
Republican Commissioners Bob Johnson in the 2nd District and Jere McElhaney in the 3rd District said they would not run again. Tuesday's primary election ballots will show contested races among Republicans and Democrats in both districts.
All of the candidates are either retired or involved with their own businesses or interests. That makes it easier to focus on county business, Campbell said.
"I think someone who is retired or semi-retired has a lot more time to put into the position," he said.
Although there are no county issues that involve divisions along party lines, the Democrats would like to gain the two seats. Two new Democrats would complement the efforts of 1st District Commissioner Charles Jones, also a Democrat, county Democratic Party Chairman Tom Hartley said.
"From the party perspective we were certainly active in seeking out candidates early," he said. "We've really got an opportunity to change the face of the County Commission and that doesn't happen very often."
Here is one more look at the commission candidates:
2nd District
Democrats Nancy Thellman and Ken Adkinson are vying to represent their party in the November general election.
Thellman, 50, of rural Lawrence, is a Presbyterian minister and former registered nurse. She favors adding new jobs by adding new industry but she also said "intelligent stewardship" is needed in protecting land natural resources. She opposes building a new industrial park by Lawrence Municipal Airport because it would be in a flood-prone area.
Adkinson, 65, Eudora, is retired from the agricultural industry. A member of the Eudora Planning Commission, he also has an interest in rural land issues. He said budget decisions are the biggest issues facing the county at least for the next two years.
On the Republican side, Grant Eichhorn, 41, of rural Lawrence, and David Brown, 51, of rural Baldwin City, are facing off.
Eichhorn, a business owner, said he plans to approach economic development by working with the Lawrence Chamber of Commerce and the city. Addressing transportation issues also are important, he said. Eichhorn also has served on the Lawrence-Douglas County Planning Commission.
Brown, a retired Douglas County Sheriff's deputy, still farms. Budget decisions will be tough again for commissioners in 2009, he said. But he thinks the county should continue to support social service agencies. As development expands in the county, he will encourage the city of Lawrence to plan for additional parks and recreation sites.
3rd District
Clenece Hills and Ken Grotewiel are the Democratic candidates.
Hills, 69, of Lawrence, is a longtime teacher. She said she intends to work with all stakeholders in pursuing economic development. Until that development adds to the tax rolls, tough decisions will continue to be a necessity in preparing the county budget, she said.
Grotewiel, 58, moved to Lawrence earlier this year from Topeka. He has been a state representative and business owner and worked several years at the Kansas Water Office. He said he wants growth to enhance the history and cultural advantages the county enjoys. Budget decisions will continue to be difficult, he said.
The Republicans are Jim Flory and John Tacha.
Flory, 59, rural Lawrence, is a former Douglas County District Attorney and U.S. Attorney. The biggest issue facing the county is holding the line on the mill levy, he said. He said he will work with the county's cities to bring new jobs and economic development.
John Tacha, 67, is a former Lawrence school board member. He owns his business, Bureau of Lectures and Concert Artists, which provides entertainment options for schools. He said he has considerable budgeting experience and will use his knowledge to save tax dollars while being a proponent for economic development.
Copyright 2018 The Lawrence Journal-World. All rights reserved. This material may not be published, broadcast, rewritten or redistributed. We strive to uphold our values for every story published.