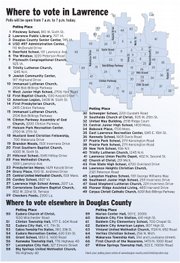 Polling places that have changed
Temporary
Precinct 10: Moved from Burge Union to Immanuel Lutheran Church, 2104 Bob Billings Parkway
Precinct 37: Moved from Coffin Sports Complex to Prairie Park Elementary, 2711 Kensington Road.
Precinct 64: Moved from North Wakarusa Fire Station to Veritas Christian School, 256 N. Mich.
Permanent
Precinct 8: Moved from South Park Recreation Center to Trinity Lutheran Church, 1245 N.H.
Precinct 41: Moved from Woodlawn Elementary School to Lawrence Visitors Center, 402 N. Second St.
Precinct 54: Moved from Eudora City Library to Eudora Recreation Center, 1630 Elm St.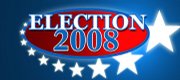 In-depth coverage of the candidates and the issues, all leading up to the Aug. 5 primary and the Nov. 4 general election.
Voters heading to the polls for Tuesday's primary election will be punching the ballot at several new locations, as six of Douglas County's 67 polling places are in new locations.
"We're constantly looking at what polling places we're looking at. Are they sufficient in size? Are they meeting the needs of the population?" County Clerk Jamie Shew said.
Voting precincts are unaffected because laws prohibit realigning precincts in years prior to a census; the next census is in 2010.
Some changes are temporary; others are permanent.
Precinct 8 used to conduct its polling at the South Park health center, but the county no longer has use of that facility. The new polling place is across the street at Trinity Lutheran Church, a permanent change.
Precinct 10's polling place is traditionally in Kansas University's Burge Union, but the lack of students in early August caused the county to temporarily move the place to Immanuel Lutheran Church.
"The dorms aren't open, so no one shows up to vote," Shew said. He said it costs $750 to operate a polling place, further solidifying the decision to move from Burge Union.
Precinct 37 voters will temporarily report to Prairie Park School. The former polling place, Coffin Sports Complex, lacks air conditioning. Precinct 64, formerly North Wakarusa Fire Station, also moved its polling place to a location with air conditioning: Veritas Christian School.
"Every August, traditionally, those consolidate because it's a long day without air conditioning," Shew said.
School officials at Woodlawn School expressed concerns about space and security, prompting the polling place to be permanently moved to the Lawrence Visitors Center, Shew said.
Copyright 2018 The Lawrence Journal-World. All rights reserved. This material may not be published, broadcast, rewritten or redistributed. We strive to uphold our values for every story published.