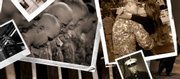 For more than six years, America has been at war. The war has helped elect politicians, kept the national deficit growing and increased ties between the world of academics and the institution of the military. Children have folded flags for soldiers. Motorcyclists, many veterans among them, have stood guard as families mourn. And others spend every Saturday at noon protesting the war. For families of soldiers, the impact is far greater: a yearlong absence from a parent, spouse or child. For the unfortunate, it is a lifetime of separation. For Veterans Day 2007, the Journal-World takes a look at how the war has touched us all.
As Sean Humphrey sorted through his son's personal items Friday, just shipped to Shawnee from Iraq, he was reminded of how lucky he was.
"I'm glad I'm going through this stuff to bring to him, rather than to put into storage," Humphrey said. "We're just so blessed that he's alive."
Humphrey's son, Army Spc. John Humphrey, 23, was severely wounded July 15 when an improvised explosive device detonated while his unit was conducting combat operations in Kn'an, Iraq. He was just two and a half months away from the end of a 15-month tour.
Series of surgeries
John now is recovering in the Walter Reed Army Hospital in Washington, D.C. On Thursday, he had his fourth surgery; the explosion caused damage that required partial amputation of both his right arm and left leg.
The reality of the situation had been a blow to his parents; his mother, Denise, is a cheerleading coach at Shawnee Mission Northwest High School and Sean Humphrey is a Lawrence firefighter who formerly served as a volunteer firefighter for the Shawnee Fire Department.
"People say they're caught up in a whirlwind, and that's exactly how it feels right now," Sean said. "It's my business to help people, but I don't know what to do right now. You can't prepare for this."
Like his parents, John had attended Northwest High School in Shawnee, but he got his GED at 17 in order to sign up for the Army. His father said it was something he really wanted to do.
"He was one of those kids you wouldn't think of (as an Army recruit), but something got into his head," Sean Humphrey said. "The war had already started, some of his friends were already over there, and I think he just wanted to do his part."
After joining the Army, John trained in Washington state and was assigned into a new special regiment unit of Strykers, 18-wheeled combat vehicles - the 2nd Squadron, 2nd Stryker Cavalry Regiment, 2nd Stryker Brigade Combat Team, 1st Armored Division - and was moved to Vilseck, Germany, before beginning his first tour of Iraq last year.
Before 'surge'
Sean Humphrey said John got to Iraq just before the "surge" of troops, and during his time there, John thought things were improving.
"He said to me on many occasions he could see it working and they were doing a good job," Sean said. "He said he could tell by the kids being able to play on the streets - where you'd see just one or two before, now there were 10 or 12."
In fact, John decided to sign up for another three years while in Iraq; his father said he thought John was going to try to make a career of service.
John had a close call early on in his tour. Two months after arriving, an IED hit his Stryker, killing his lieutenant but only giving him a concussion. John decided to stay on.
The July 15 incident occurred as John's unit was clearing an abandoned town for habitation.
"He told me he knew something was wrong because when they rolled into this town, there weren't even any dogs around," Sean Humphrey said.
John and two other soldiers entered a house and one opened a door wired with an IED on the other side. The explosion killed one of the soldiers and left John with severe wounds.
John was transferred to Germany and then to Washington, D.C., where his parents stayed with him before returning to Kansas City this week to make work arrangements. John received the purple heart and the bronze star awards, of which he was "pretty proud," Sean said.
In addition to the damage to his arm and leg, Sean said John has 12 or 13 different shrapnel wounds. In Thursday's surgery, doctors took muscles from John's back to replace lost muscles in his arm and skin from his leg for a skin graft.
"The doctor said he could be there at Walter Reed for a year; they're not expecting a speedy recovery," Sean Humphrey said.
'Miracle workers'
The Humphreys hope that John may be able to come back to Kansas City for physical rehabilitation once he has recovered enough.
"Right now he's at the best place for him; those guys are just miracle workers," Sean said.
Until then, Sean plans to leave for Washington, D.C., again next week. He will stay for two weeks, and then Denise Humphrey will go for two weeks, alternating as long as they can.
Sean said he was surprised when he arrived in Shawnee and found someone had mowed his lawn for him, and he thanked all the others who have given the family support. He said the family would appreciate letters sent to John at Walter Reed, and they look forward to the day they can bring him home.
"His prognosis is good," Sean said. "Like I said, I'm just glad we have him."
Copyright 2018 The Lawrence Journal-World. All rights reserved. This material may not be published, broadcast, rewritten or redistributed. We strive to uphold our values for every story published.