Photo Gallery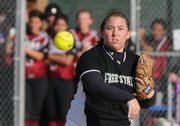 FSHS softball vs. LHS
Tuesday's softball doubleheader at Holcom Park between Lawrence and Free State high schools resembled what one might expect to see at the city football or basketball showdowns.
Dueling student sections, athletes rising to the occasion and a pair of nail-biting ballgames dominated the scene, but Free State's 1-2 punch of Catherine Smith and Kayley Lane proved supreme, and the Firebirds swept the Lions, 4-3 and 4-3.
"You don't get that kind of support at a softball game," said Smith, who tossed a complete game for the victory in the opener. "That's the best crowd we've had during my four years here. It was great, and I think it got us all fired up."
That much was obvious from the outset, as Free State jumped out to a 3-0 lead in Game One. Kelsey Leinmiller-Rennick opened the game with a single, and Lauren Fox and Lane followed suit. All three later scored, as the Firebirds sent eight batters to the plate in the top of the first.
"As a team, I think we were a lot more focused and intense," said Lane, who was 4-for-7 and scored four runs on the night. "But I think after we got the lead, we might have got a little overconfident."
After ripping five hits in the first inning, the Firebirds tallied just five total during the next six, giving the Lions an opportunity to rally. LHS took full advantage of the chance. The Lions scored their first run in the third on a wild pitch from Smith. The next two LHS runs came courtesy of Free State errors, and LHS tied the game at 3 in the bottom of the fourth.
It then was scoreless until extra innings.
That's when Lane led off the Firebirds' half of the eighth inning with a long double to left-center field. She scored one batter later, when Smith reached safely after an LHS throwing error.
The Lions went down quietly in the eighth, as Smith recorded her ninth and 10th strikeouts of the game.
"We came out a little nervous and spotted them three runs and had to battle hard to get that back," LHS coach Reenie Stogsdill. "After that, we just didn't get any timely hitting and fell a little short."
Smith, who threw 15 innings for the Firebirds on Monday, was particularly puzzling to the heart of the LHS order. Brittaney Krug, Kacie Welborn and Lauren Massey combined to go 0-for-11 with eight strikeouts in Game One.
Game Two was similar to the opener, as Free State jumped to a 4-0 lead and held on for dear life. The Firebirds built their lead behind five hits and two LHS errors through four innings. But in the fifth, the Lions roared back once again.
Jasmyn Turner led things off with a bunt single and later scored when Kalli McClure and Jamie Morgison each reached after FSHS errors. In all, the Lions scored three runs on two hits and three errors in the fifth to cut the FSHS lead to 4-3.
But with Smith returning to the hill to relieve her younger sister, Megan, the Lions went three-up, three-down in each of the next two innings, and Free State survived with another 4-3 victory.
"Us seniors had never lost to LHS," Catherine Smith said. "And that would not have been the right way to go out. It's a rivalry, they're a good team, and they always play their best game against us. Fortunately, we did enough to win tonight, and hopefully that gives everyone in our dugout some confidence."
Copyright 2018 The Lawrence Journal-World. All rights reserved. This material may not be published, broadcast, rewritten or redistributed. We strive to uphold our values for every story published.