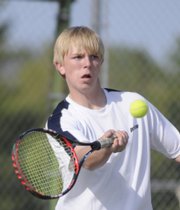 Seabury Academy's boys tennis team got a firsthand look Monday at the level of competition it will face at Thursday's regional tournament.
The Seahawks faced Maranatha Academy - a Class 2A school and host of Seabury's regional site - and lost the dual, 9-0.
"It was definitely good competition for us today," Seabury coach Scott Elwell said. "Maranatha sent their whole varsity squad to state last year, and they're just a good squad year in and year out and always have good players.
"We knew we were up against a good team so our expectations were definitely realistic with what we had coming in."
The combination of Maranatha's experience and Seabury's young program had the Seahawks outmatched top to bottom.
"I can't speak for everyone on the team, but the guy I played was just a phenomenal player," said Seabury senior Bill Butler, who lost the No. 2 singles, 8-1. "He had a great serve, he could position the ball and showed great ability and a great feel for the game. So they obviously play a lot, and it was just a really tough day."
Seabury's closest match came from Butler's doubles teammate, freshman Alex Sisson, in No. 6 singles. Sisson won lost, 8-4, in the last match of the day.
Seabury will travel to Lincoln Academy on Wednesday for one final match before regionals Thursday.
"A couple of the kids told me today that this was the best tennis that they've played," Elwell said. "So as long as we keep hearing that when they come off the court, that's as much as I can ask for at this point."
Copyright 2018 The Lawrence Journal-World. All rights reserved. This material may not be published, broadcast, rewritten or redistributed. We strive to uphold our values for every story published.