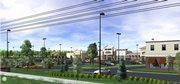 Wal-Mart is more than the world's largest retailer.
It just might also be the planet's biggest magnet for real estate leads.
"We have not signed any deals, but there's been a lot of interest," said Bill Newsome, a partner in 6Wak Land Investments. "Once the Wal-Mart approval occurred, there's been a great deal of interest."
The city's blessing came in January for 6Wak's 25 or so acres at the northwest corner of Sixth Street and Wakarusa Drive, a patch of undeveloped property mired in zoning controversies, angry lawsuits and development limbo for much of the seven years since Newsome and business partner Doug Compton bought the place.
But now that Wal-Mart is locked in and on the way toward construction - a building permit application was making its way through the city bureaucracy earlier this year, destined for formal approval - Newsome can look forward to adding life at a corner that has been home to so much inactivity.
"I think we'll have at least one restaurant," he said. "We'll be giving Lawrence more restaurant dining opportunities, and then different, miscellaneous retail shops.
"They'll be different, because when you bring in an anchor like Wal-Mart, it attracts some different types of shops that maybe aren't here now."
The promise of Wal-Mart long has helped drive development decisions and speculation in the area. Hereford House, a Kansas City, Mo.-based restaurant chain heavy on steaks and other relatively high-end fare, staked its claim early on for a corner section of the Wakarusa Crossroads shopping center across Sixth Street.
But as Wal-Mart opponents lined up, and city officials declined to endorse Wal-Mart's plans for a new supercenter, momentum waned. Some retailers in the strip center left for other locations in town, while Hereford House closed and only recently reopened as HH Bar and Grill.
Neighboring project
Across Wakarusa Drive, Mike Treanor snapped up former agriculture property in front of Free State High School and set out to plan a mixed-use development, one featuring retail, office, residential and institutional buildings within an intimate neighborhood.
The project spent several years clearing regulatory hurdles and other issues, and earlier this year - once Wal-Mart's fate won the blessing of Lawrence city commissioners - Treanor secured approval for his plans. Surveyors set out placing flags in preparation for development; Compton has signed on to build residential buildings.
The project even has landed its first retail tenant: CVS Pharmacy, a chain with more than 6,000 stores in more than 40 states, including a store that opened last year at the southeast corner of 23rd and Iowa streets.
Wal-Mart, for its part, didn't invite others to follow its schedule. But a company representative doesn't mind that the area's prospects appear to be picking up.
"I think it's an exciting time for that part of Lawrence," said Angie Stoner, a Wal-Mart spokeswoman.
Most notable for her: Wal-Mart's intention to start construction this spring on its 100,000-square-foot supercenter, one designed to feature general merchandise and a full-service grocery - with deli services - plus a pharmacy and exterior garden center.
Grand opening: 2009
"If everything goes as planned during construction, it normally takes about 10 to 12 months for a store to be completed," she said, looking ahead to a grand opening in early to mid-2009.
"We feel like the corner of Sixth and Wakarusa is a great place to better serve our customers in the area," Stoner said. "We feel like there's a lot of opportunity for growth in this area, and just a great location for us, as a company, to serve our customers with both a grocery and general merchandise store."
Newsome and Compton originally bought 52 acres at the corner, some of which has been sold off. To the west, for example, some former 6Wak property has been slated for a senior housing development.
And 6Wak has some land along Overland Drive reserved for an office complex.
But it is the retail component that promises to draw the most attention, and already is, when considering inquiries.
"We're talking to all kinds, but certainly on the outparcels of a Wal-Mart there's a decent probability that they will attract some national tenants," Newsome said. "We should have some users to talk about later in the year."
No matter what materializes, Newsome said, the new businesses will complement the intersection's incoming anchor: a Wal-Mart that has been in the works for years, but now looks to be weeks away from a construction schedule measured in months.
"We couldn't be more excited to see some activity happening on that corner," Newsome said.
Copyright 2018 The Lawrence Journal-World. All rights reserved. This material may not be published, broadcast, rewritten or redistributed. We strive to uphold our values for every story published.