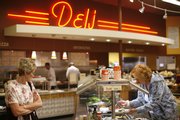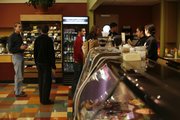 Expansions, upgrades and new businesses are working to feed the Lawrence community's tastes for groceries and related products this year.
Whether it's a new natural-foods market that has opened downtown or plans for a new mass-market store coming from the world's largest retailer - or something in-between - this year looks to give community residents unprecedented options when it comes to putting food on the table.
"We wanted to create a more welcoming environment for the whole community to enjoy," said Jeanie Wells, general manager of the Community Mercantile Co-op, as it completed its own five-month remodeling project in February. "We wanted to improve the overall flow of our store and increase its capacity and services to better serve our community."
Wells and her co-workers at Community Mercantile aren't alone in positioning themselves to succeed in an increasingly competitive marketplace.
Among the biggest moves affecting the market comes from Wal-Mart, the mega-retailer that is planning to open a new 100,000-square-foot supercenter at the northwest corner of Sixth Street and Wakarusa Drive.
With construction anticipated to start this spring, the company aims to open its long-anticipated supercenter by the middle of 2009.
"This store will provide a full grocery along with deli services and general merchandise," said Angie Stoner, a Wal-Mart spokeswoman. "We feel like this is a great location for us. When we consider a supercenter - to expand our general merchandise and our grocery department - our priority is to save people money so they can live better. :
"That's our priority. And we hope our customers can find the items they need so they can save that additional money."
While other grocers typically decline to talk about Wal-Mart's grocery expansion - the company last year completed an expansion of its existing store on South Iowa Street, including its first foray into groceries for Lawrence - it is clear that the new supercenter is gaining attention.
Dillons plans upgrades
Dillons, a division of The Kroger Co., already has its newest store at the southeast corner of Sixth and Wakarusa, where the company purposefully reserved adjacent space room for expansion to the west when it opened the place in 1999.
For now, Dillons is focusing on upgrading a single store in Lawrence: on 23rd Street, the company's nearest location to the existing Wal-Mart, at 3300 Iowa. But it's clear that other changes are being discussed.
"We compete against retailers in every area, and competition allows us the opportunity to continue to focus on our customers and to meet and exceed their expectations," said Sheila Lowrie, a Dillons spokeswoman, who declined to discuss speculation about planned expansion of the store at 4701 W. Sixth St.
On 23rd Street, work already has begun preparing for the store's first major overhaul since opening in 1989.
The project - "a complete remodel," Lowrie said - will give the 58,000-square-foot store both a new look and new features. Among them:
¢ An enhanced deli department, including a new gourmet cheese shop, an olive and antipasto bar and chef-prepared entrees and salads. Fresh take-and-bake pizzas will be made daily, and the store's sushi offerings and soup-and-salad bar will be expanded.
¢ Expansion of the Nature's Market concept. Now the space will include frozen and refrigerated foods. But beyond adding those and other organic and natural foods options, the space will include a HealthNotes computer, where customers can click around for educational information on products and recipes.
¢ A new beauty section, called All About You. The new space will include lighted displays showcasing cosmetics and other personal-care items.
¢ A new storefront, including large windows to allow for more natural light to enter the store. The Starbucks location also will be relocated to a spot adjacent to an entry.
Such upgrades are ongoing at Dillons stores in Wichita, and one is complete in Newton, Lowrie said. Whether other Lawrence stores follow the lead of the 1015 W. 23rd St. site remains to be seen, but Dillons' direction appears set.
"We realize that one-stop shopping is more than a convenience. It's a necessity for most shoppers today," Lowrie said. "Our customers want healthy, quality foods but don't always have time to prepare meals. That is why we have expanded our line of organic products, as well as our frozen foods sections. We've also paid special attention to our salad bar, our Chinese kitchen and added many specialty deli items as well."
Healthy approach
While Dillons has been in Lawrence since 1960, a new - and much smaller - operation is just getting its start in town.
The Casbah Market opened Jan. 1 at 803 Mass., where The Casbah formerly operated as a market for clothing and accessories.
The place not only is the first grocery store downtown since Wild Oats left in 1996, but also is among those aiming to build on Lawrence's demands for organic, locally grown and otherwise healthy products. The market includes the Nice Cafe, where customers can pick up salads, soups, juices and entrees that all have a common theme: They're not only tasty, but healthy as well.
Folks at the Community Mercantile - another organic- and health-minded grocer that got its own start in the 1970s - are supportive of the efforts of Casbah Market owners Cassy Ainsworth, Josh Millstein and his sister, Casey Millstein.
The Casbah Market even bought some equipment from The Merc, where more than 90 percent of all store items either are considered organic or all-natural.
The equipment became available as The Merc, at 901 Iowa, recently completed its own upgrades, ones determined by conducting focus groups and surveys involving cooperative's 3,700 member owners.
Wells, The Merc's general manager, said that members wanted more fresh food options, a new dining space in which to enjoy them and the desire to make The Merc more ecologically sound.
The Merc's new cafe, she said, satisfies all three priorities. The cafe uses renewable materials - from tables made from stalks of milo to buying renewable energy credits to offset the cafe's power use - and is repositioned at the front of the store to boost convenience.
Food offerings also now are available for breakfast, lunch and dinner, seven days a week. The cafe added sushi from The Merc's own sushi chef, and pizza-by-the-slice and other options were included to make The Merc even more of a destination attractive not only to members, but the general public as well.
"It needed to be done, and we wanted to make things easier on everybody," said David Smith, The Merc's director of marketing and ownership. "Apparently we did."
The work also has had another benefit, Smith said: The pace of new memberships has more than doubled since the remodeling.
Copyright 2018 The Lawrence Journal-World. All rights reserved. This material may not be published, broadcast, rewritten or redistributed. We strive to uphold our values for every story published.