Photo Gallery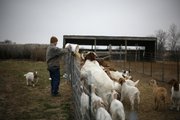 Family farm
Douglas County farmer Clint Flory wakes with the rising sun and shuffles down to the barn.
He feeds the calves and goats, and he prepares the cows for milking. His wife, Josie, will milk them when he reluctantly leaves for work as a maintenance technician.
Flory, 28, wants nothing more than be able to sustain his family by laboring on his farm. The desire is there; however, the money is not.
"I don't farm full-time because I can't afford it. It doesn't work," Flory said. "It's something I think you love and you don't know any better, you just do it."
It's an issue that affects a new generation of farmers as they figure out their place in an industry that includes more big corporations and less revenue.
Flory's dad had cows. His dad's dad had cows. And his dad's dad's dad had cows. The farm is very much a part of who he is.
It's not the money he values, but the lifestyle. His daughters Maris and Haley - 2 and 3 years old - already are immersed in the farm. It's their job to collect the eggs from the chicken house each evening.
"I try to involve them as much as I can. I think it teaches them responsibility," Flory said. "They learn that the animals depend on them."
Flory struggles to preserve the family farm. To him, it's just as much worth protecting as any historical artifact contained inside the walls of a museum. But the job isn't easy.
According to data compiled by the Kansas Farm Management Association, in the northeast Kansas region, which includes Douglas County, the average farm had a net income of around $52,000 in 2006. But according to the same report, 16 percent of farms made less than $20,000 during the same year.
"It's the input costs that kill you," he said. "When people look at how much we're making, you know $10 a bushel for wheat, they don't think that it might have cost that farmer $9 to get $10 of it. He's not making $10, he's making a dollar."
As long as Flory can remember, nudging into the ag industry is a tight squeeze.
"It's still hard to get into, and it's still hard to make a living at it. It's been that way my whole life. Even my dad had to have a job outside of the farm," he said. "I see the future of the farm staying basically where it's at now, being more of a hobby than an occupation."
Amy Saunders, co-owner of Amy's meats of Jefferson County, is learning how challenging sustaining a farm is. She, her husband, Dan, and two sons, Tucker, 5, and Ethan, 2, work 40 head of cattle. Startup costs nearly hobbled their efforts to launch the farm.
"We're building it literally from the ground up," said Amy Saunders, 29. "We want to be sustainable and live off what we're doing - and eventually we'll be able to do that - but we have a lot of overhead expenses we have to accumulate to make it work. Buying the land at $10,000 an acre is not very easy."
The family had to buy everything - grain equipment, tractors, feed bunks, land and more. Because of the input costs, Dan had to retain his off-the-farm job. But Saunders believes she'll see a payoff within the next few years.
"I know a few years ago the future of the family farm didn't look very good," she said. "I think it's going to be very small-scale, but I do think we will be a viable part of the agricultural world."
Corporate farmers don't threaten Saunders because they don't offer the same product. Family farms, in her view, provide something corporate farms don't: trust.
"When we started, the local movement wasn't as popular. It's been a struggle," she said. "But once people learned that they were buying more than just our product, that they were buying us, and that trust, it's been a lot easier."
The family farm might seem like a fading reflection in a rearview mirror, diminishing in the distance, but some manage to make it.
Steve Kalb, a 28-year-old who farms east of Baldwin City, has the corn, the soybeans, the wheat, the cattle. And he's making it. But like the hand on a clock, to keep the farm going Kalb can't stop for a second.
"I think of it more as my profession than just a lifestyle," Kalb said. "We don't have a lot of downtime in our operation. We keep pretty busy, pretty full-time."
He started in the field around the first of April planting corn, and he'll deal with corn until July. Then it's time to for hay. Then harvest. Then in the winter he runs a couple of hundred head of cattle. August provides his only hiatus all year-round.
One thing that keeps his farm alive, he said, is his ability and willingness to adapt. He tells a story about how, years ago, when other farmers refused to buy tractors, maintaining that horses were the best way to work the land, his grandpa trusted technology and bought one.
"We're innovative, and we take steps looking toward the future," Kalb said. "We try to adapt to technology. The ones that adapt and change with the times are going to be the ones that survive."
One way he's utilizing the forces of technology is using corn genetically modified to ward off insects.
"We used to raise 80 and 90 bushel corn, and now we're putting out 120 bushel corn (because of genetic engineering used in the seeds)," he said. "Genetic engineering is a technology that is definitely in our favor. It allows us to be more efficient, allows us to raise more bushels and to keep prices down - not only for American people but for people of the world. It's good for us, it's good for consumers, and it's good for the environment."
Despite success, Kalb admits there are some hurdles.
"It's going to be tough to pass the farm on to the next generation," he said. " I think family farms have always had a difficult time surviving."
Brad Rice, 25, who manages to make it without getting a second job by harvesting hay, groans over the difficulty of finding good help. He said it's hard to find workers willing to endure the long days in the blistering heat bailing and loading.
"Labor is becoming a big problem," he said. "Luckily there's still some local kids that want to work and will work, but that's an issue that's becoming bigger and bigger. It's hard to find good, honest, reliable help."
But some farms are so small, hired help is a mirage in the distance.
"I honestly don't make any money on the farm. I do it because I grew up with it," Flory said. "I hate to say it's impossible (to just farm), because I hope someday I'll be able to do it. But it's pretty tough to make it work. I just haven't figured it out yet."
Copyright 2018 The Lawrence Journal-World. All rights reserved. This material may not be published, broadcast, rewritten or redistributed. We strive to uphold our values for every story published.