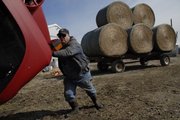 Developing markets in China, rising demand for alternative fuels in the U.S. and problematic weather conditions cutting some yields internationally are adding up to growing prospects for more work this summer and fall for farmers in Douglas County.
That's because relatively high prices for wheat now are spurring hopes for double-cropping with soybeans later.
"If the wheat comes out early enough, I wouldn't be scared to plant double crop," said Jerry Neis, who tends to about 90 acres of wheat growing on hill ground south of Eudora. "If it comes out late, I'd be scared. My day is July 4. If I can't get (the wheat) in before July 4, then I don't plant 'em."
Neis figures he can pull off double-crop success about once a decade. Usually, either weather conditions or market forces conspire to limit a field to one crop a year: wheat over the winter into summer, and either corn or soybeans from late spring into fall.
But this year, with wheat prices having reached into record territory - beyond $12 a bushel in February - farmers are finding that there's more at stake now than perhaps ever before.
That's because with a rising market, there's potentially much to gain by harvesting two highly priced crops instead of one.
"Most farmers are smiling pretty good right now," said Bill Wood, agriculture agent for K-State Research and Extension in Douglas County.
But the grins aren't coming without perspective. Some of the same market forces that have been driving crop prices upward also are fueling increased production and input costs, from fertilizer needed to raise healthy plants to the diesel fuel required to run the equipment that can get the grain into the bin.
Nitrogen fertilizer opened the year selling for $500 a ton, up 30 percent from a year ago, Wood said. Phosphate fertilizer was running $758 a ton, more than double the $321 charged in 2007.
The thought of high-cost, high-reward farming is nothing new, but this season's prospects for especially high costs and optimism for even higher rewards is new for most everyone involved.
And other businesses in Lawrence will be rooting for prime growing conditions, favorable harvesting schedules and continued market favorability.
"This is helping our farmers, which helps the businesses in town," Wood said. "When our farmers make money, they spend money."
Roger Kitsmiller isn't growing any wheat this year, but he's looking forward to a good year for his corn and soybeans - the two major crops in Douglas County, and also among the commodities on the rise and into record or near-record territory in February.
But those prices, he'll tell you, aren't all that valuable until fall arrives. And by then market conditions could have changed as fast as the Kansas weather.
"A guy's got to have something to sell before the high prices do any good," he said.
Neis will tell you the same thing, and even hesitates to discuss prospects for double-cropping his wheat. No sense jinxing something before it's barely out of the ground, especially when wet ground in early March was keeping him out of the fields, unable to apply fertilizer and threatening to disrupt his normal schedule.
And last year he got burned on his wheat crop, having planted 170 acres that endured damage from a late frost, draining yields at a time when prices were down anyway.
Then there's the headache of having to stop combining wheat to plant beans. And hoping for Mother Nature to hold off on periods of 100-degree scorchers. And for gentle rains to arrive at the right times.
And for the grain prices to remain high to make going through all the work - and shouldering even more risk - worth it in the end.
"It's a risk," Neis said, "but I think this year is going to shine for us."
He paused for a moment, perhaps contemplating the ups and downs of farming.
"But next year," Neis said, "we'll have to watch it."
Copyright 2018 The Lawrence Journal-World. All rights reserved. This material may not be published, broadcast, rewritten or redistributed. We strive to uphold our values for every story published.