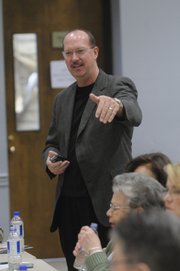 2008 Chamber officers
The Lawrence Chamber of Commerce officers for 2008:
¢ Chairman is Jim Otten, of James Otten Restorative Dentistry.¢ Chairwoman-elect is Bonnie Lowe, of Landmark National Bank.¢ Immediate past chairwoman is Joan Golden, of U.S. Bank.¢ Treasurer is Matt Hoy, of Stevens and Brand.¢ Vice chairwoman for member services is Allison Vance Moore, of Grubb & Ellis I The Winbury Group.¢ Vice chairwoman for communications is Larissa Long, of Aquila.¢ Vice chairman for economic development is Mike McGrew, of McGrew Real Estate Inc.¢ Vice chairwoman for operations is Cindy Yulich, of Emprise Bank.¢ Co-chairmen for government/community affairs are Jane Bateman, of Jane Bateman The Interiors Store, and David Johnson, of Bert Nash Community Mental Health Center.¢ Co-chairmen for future planning are Paul Carttar and Pat Flavin, of McGrew Real Estate.
Officers were elected in December by members of the chamber's board of directors. Officer terms began Jan. 1.
Adding to a sometimes tumultuous year of changes for the Lawrence Chamber of Commerce will be the search for a new president.
Lavern Squier, the chamber's president and chief executive officer for nearly five years, no longer will be employed by the chamber once an "appropriate transition period" has passed, the organization's board of directors announced April 4.
The chamber runs the city's economic-development efforts, and Mayor Mike Dever acknowledged that the upcoming leadership transition would be difficult.
"We need a dynamic salesperson that can really get in front of people and bring opportunities to the community," he said.
Jim Otten, chamber chairman, said a search committee would be appointed this month to identify candidates to replace Squier. Until a new president and CEO is chosen, Squier's administrative responsibilities will be shared by existing chamber staffers.
Among employees who will be expected to play a lead role: Hank Booth, who was hired in November to work within all of the chamber's programs, including economic development and membership.
"He will be an important transition person," Otten said earlier this month.
Otten described Squier's departure as a "mutual agreement," following discussions about each side's futures that had been going "for a long time" between Squier and the chamber's board of directors.
The written announcement included no mention of Squier having another job, and Otten acknowledged that Squier didn't have anything specific lined up.
In the board's announcement, Squier said that it was a good time for all to look forward to opportunities: for himself, the chamber and the community overall.
"This represents an ideal time for an evolutionary step in my career and likewise for the organization," Squier said.
The chamber touted some accomplishments achieved during Squier's tenure: Berry Plastics pursuing a $118 million expansion; 1,640 jobs added by existing companies, plus another 255 through recruitment; creation of a Life Sciences Task Force, which later became the Lawrence-Douglas County Biosciences Authority; and co-creation of the Lawrence/Douglas County Technical Training Task Force.
Not mentioned were other developments that occurred under Squier's watch, including:
¢ This year's departure of the Lawrence Convention and Visitors Bureau, which left the chamber and its offices at 734 Vt. to form Destination Management Inc., which continues to operate the CVB and now oversees operations of the Freedom's Frontier National Heritage Area.
¢ The collapse of a deal that would have relocated Deciphera Pharmaceuticals from offices and labs in western Lawrence to a building at the East Hills Business Park. Squier was at the center of the deal, which fell apart after he and Lawrence city commissioners were found to have participated in improper executive sessions to discuss incentives for Deciphera.
¢ Voluntary departures of many chamber staffers, including all members of the economic-development team that was in place at the time of his arrival.
Squier came to Lawrence after nearly 13 years as executive director of the Hays-based Ellis County Coalition for Economic Development.
Copyright 2018 The Lawrence Journal-World. All rights reserved. This material may not be published, broadcast, rewritten or redistributed. We strive to uphold our values for every story published.