Photo Gallery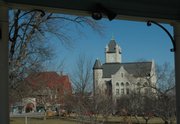 Lawrence Architecture
If there's one word that could best describe architecture in Lawrence, it might be hodgepodge.
"There's not one style that's typical of Lawrence," said Dale Nimz, a historic preservation consultant.
So, for many older neighborhoods, such as downtown and Old West Lawrence, that means there could be a variety of architectural combinations. A Victorian house from the late 1800s could be standing next to an early 1900s bungalow, or a Beaux Arts opera house might be down the street from a Richardsonian Romanesque bank building.
But this richness in architectural history and diversity can also put increased pressure on contemporary projects, most recently the Oread Inn.
The large hotel and multi-use space proposed for the corner of 12th and Indiana streets has sparked new discussions about the look of buildings in Lawrence. Some area architects hope the debate over the building leads to a new understanding of their field.
Historic styles
Nimz said that in larger cities, historic neighborhoods built in one style are more common than in Lawrence. Because population growth caused a greater demand for housing, neighborhoods often were built in a short time span and in the same popular architectural style of the time. But because Lawrence grew more gradually from 1873 until 1942, no one area was built entirely in one style during that span, he said.
"It was a very stable, smallish county seat town, and so the architecture that was built during that time represents the styles that were popular during those decades, but only a few of them were built," Nimz said. "We have a few examples from almost every decade and from almost every style that was popular in the United States during those years."
Short strolls down Massachusetts Street or through the Kansas University campus offer an easy opportunity to sample those popular architectural styles.
Liberty Hall, which was built as an opera house in 1912, is an example of Beaux Arts architecture. The style is influenced by ideas taught at the Ecole des Beaux-Arts in Paris. The Beaux Arts style's leanings toward the grandiose are evident in Liberty Hall's columns, decorative cornice and projected façade.
Farther south on Massachusetts are two examples of Richardsonian Romanesque architecture: the Douglas County Courthouse, built around 1903, and the Watkins Community Museum of History, built between 1885 and 1888. Both are on the National Register of Historic Places.
Both designs take inspiration from Boston architect Henry Hobson Richardson, who pioneered his style with the Trinity Church in Boston in 1876. Richardsonian Romanesque is defined by several features: arched entrances, towers, recessed doorways and heavy masonry exteriors.
The Kansas University campus also houses a range of styles. Richardsonian Romanesque examples, such as Dyche Hall, are present, but so are iconic Modern structures, including Allen Fieldhouse and the Memorial Campanile.
"You see sandstone, you see concrete, you see terra cotta. The diversity's incredible," said Steve Clark, principal at architecture firm Gould Evans.
Dyche Hall - with its intricate details and grand, arched doorway - stands in stark contrast to the simple design of two of the most iconic structures on campus, Allen Fieldhouse and the Campanile. Both are defined by clean lines and lack of ornamentation, common among modern-style structures.
The fieldhouse, which opened in 1955, was designed by Charles Marshall, then the state architect. It has few frills, and with its steel and limestone construction, it was built to be solid enough to function as an armory.
The Campanile serves as a World War II memorial but also is strongly tied to student traditions. It has been around since 1951 and it seems destined to remain relevant no matter its age.
"It is something that will stand the test of time because it's of its time," said Dennis Domer, a retired faculty member of KU's School of Architecture.
Contemporary challenges
Standing the test of time is a challenge architects still wrestle with.
"I think in general, we've certainly done a disservice if we don't build buildings of their time," Clark said.
Keith Diaz Moore, an associate professor and chairman of KU's architecture department, said part of the difficulty with architecture is the permanence of most structures.
"Architecture's challenge is that it lasts for years. The question is, how do we make architecture that is timeless? We do that oddly enough by having architecture that speaks to the time it is created," Diaz Moore said.
For example, he points to the Colosseum in Rome. He said the design reflects the values and ideas of the Roman culture at the time of its creation.
But as beloved as historic architecture like the Colosseum is, few architects or even the federal Department of the Interior, which deals with historical preservation, would recommend trying to replicate those styles in today's buildings. That has been part of the argument from some against the Oread Inn.
"There is, it seems, a kind of misunderstanding among many in the public that imitating historic styles is a way of fitting into older neighborhoods," Nimz said.
What Nimz and the Secretary of the Interior's standards for rehabilitation suggest instead is to fit new buildings into older neighborhoods by trying to match the feel of the area in terms of size, form and arrangement of windows and entrances.
One reason against trying to copy historic styles is authenticity.
"The authentic building is the quality building," Nimz said. "There's simply no way to replicate a historic building. ... The materials are different; the craftsmanship is different. Some may be better. The main thing is that they're different. Anyone who tries to replicate a historic building is creating an imitation, and an imitation is not authentic, and there's no need for that really."
Another concern with mimicking older styles is that the structure can lack a connection to its era.
For instance, Domer said the plans for the Oread Inn make it look more like something from the 18th century than the 21st.
"I haven't seen any English colonial settlers here lately," Domer said.
Paul Werner, a Lawrence-based architect who helped design the Oread Inn, told the Journal-World in March that if developers had tried to put a tall, modern tower on the site, the response would have been predictable.
"They would have killed us," Werner said.
Werner said public opinion is an important part of designing modern buildings.
"There are a lot of things that people can relate to in a traditional style," he said. "When you start to do something too new - Lawrence doesn't always do too well with new stuff - people can get nervous."
The future looks green
Today's architecture is heavily influenced by the concern of efficiency - energy and otherwise. That results in buildings where the function often defines the form.
"It's the kind of cleaner expression of use that comes in contemporary buildings," Diaz Moore said. "If an area is supposed to be open and exposed to daylight, the wall is going to be transparent and not just punched windows. If it's to be more private, it's going to be more enclosed. Use and meaning all kind of go together in contemporary architecture."
Beyond the idea of specifying spaces to their purpose, an even larger concern may be energy conservation. Many architects say building account for about 50 percent of our nation's energy consumption.
"My guess is our appreciation for architectural design is going to change with the whole notion of sustainability, and we will look for certain buildings that will be open to daylight," Diaz Moore said.
Another factor in contemporary architecture is the availability of new, more energy-efficient materials. Whereas using an abundance of glass used to cause energy leaks, newer materials now make glass an energy saver. That's why many contemporary buildings feature large windows that let in natural light.
"I think we're coming to a time where it's going to be very exciting," Clark said of the technological advances.
His firm, Gould Evans, built one of the most recent contemporary structures in the city, South Junior High, which utilizes tall, large windows to maximize the amount of natural light that can come in.
Other structures in town have sought the same effect: Fire Station No. 5 at 19th and Iowa streets; Bert Nash Community Mental Health Center; and JRP Hall on the KU campus.
Making buildings more efficient may be a challenging task, but it's one that Domer said architects cannot shirk from.
"If our new architecture is not focusing on energy, we're not doing our job," he said.
Copyright 2018 The Lawrence Journal-World. All rights reserved. This material may not be published, broadcast, rewritten or redistributed. We strive to uphold our values for every story published.