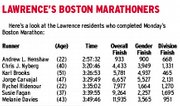 Monday, more than 22,000 runners lined up in Hopkinton, Mass., for the 112th running of the Boston Marathon.
And 26.2 miles later, 98.2 percent of them finished the granddaddy of all distance runs.
Included in that group of 21,963 finishers were seven men and women who call Lawrence home.
They ranged in age from 22 to 51. Some were Boston rookies; others Boston veterans.
Here are the stories of two of them: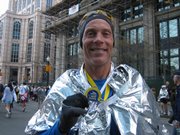 Chris Nyberg, 3:20:46, 4,433rd overall
A year ago at this time, Chris Nyberg - a rookie runner - had just finished the Lawrence Half Marathon and was months away from his first full marathon.
But that pales in comparison to how far he'd come in the previous 18 months.
"I decided to quit drinking 21â2 years ago," says Nyberg, 40. "I started running to get in shape. I figured I'd abuse my body in a different way. So from where I was 21â2 years ago to now : it's pretty dramatic."
Two-and-a-half years ago, Nyberg says, he was a mess.
He was the first to start parties and the last to leave, constantly heading off to work each morning hung over.
"It was band enough, I needed to quit. Between alcohol and marijuana and cocaine : to make a long story short, I went to AA for a year, and that helped out a lot," Nyberg said. "I just said, 'I don't need that crap anymore. I knew I had to quit. It was a lot of things, but when you crash that car - and thank God nobody was hurt - you just know you have to quit."
Nyberg swam when young and played baseball into the junior-college ranks.
Then came college.
"And I was real good at partying," he said. "I really didn't do too much exercise after that. But at some point you come to a crossroads in life and think, 'Hmm, maybe I need to grow up.'"
So Nyberg walked away from partying and ran into, well, running.
He admits his training is inconsistent and unorthodox, but it seems to have worked well enough.
A "semiserious" runner for just over a year, Nyberg - a commercial plumber by trade - ran his first marathon last fall in Kansas City. He clocked a respectable 3-hour, 30-minutes - 10 minutes slower than the time needed to qualify for Boston. In just his second marathon, the Gasparilla Distance Classic in February in Tampa, Fla., Nyberg placed 75th overall, in a Boston-qualifying time of 3:17:24.
"It was good for me," Nyberg said of Monday's race. "Maybe not good for a lot of people, but it was good for me. Some people are totally amazed. I must have something in me that makes me want to run. It's fairly good to qualify for Boston.
"It would be nice to train better. I don't put in enough miles. There are weeks I don't run, and then I'll run every day. I like running, but I don't like it that much. Maybe it's not that unorthodox, but I look at training schedules, like on Web sites. I don't put in the training like I should."
Nyberg plans to return to Boston next year, shooting for a 3:10.
"It's one of the coolest things I've witnessed," he said.
Occasionally, Nyberg bumps into his past life.
"Sometimes I'll go to a bar for lunch and see somebody I haven't seen in a while, and they're like, 'Hey, man, you look good,'" Nyberg said. "I'll tell them I'm running marathons now. I actually have had people say, 'You know what? You inspire me.' I think I have inspired some people, which is cool. I'm proof you can be an alcoholic : I'm proof you don't need that crap in your life and can still have a blast."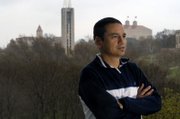 Jorge Carvajal, 3:29:49, 6,657th overall
Take away the booze, and Jorge Carvajal's road to Boston is similar to Nyberg's.
Less dramatic, perhaps, but nearly as quickly paved.
Carvajal, 47, a Kansas University doctoral candidate from Costa Rica, came to KU in 2002 and put on 40 pounds. He lost the weight and competed in his first triathlon in 2006. November of that year, he ran his first marathon, the New York Marathon. Though his time was five seconds slower than the qualifying time, he appealed to Boston officials. It was granted.
Carvajal so enjoyed the experience, he wanted to return. He ran a 3:20:17 at the Philadelphia Marathon last November to qualify for this year's Boston, then ramped up his training, boosting his weekly mileage from 50 to a peak of 71.5.
"It wasn't as good as I was expecting," Carvajal said of his Boston performance. "I was actually shooting for a personal record of 3:10. Apparently, that was too aggressive."
Carvajal thinks the slower time was a product of weather - temperatures Monday started at 52 and rose into the 60s - and overall exhaustion.
"It was a little warm, and I think that affected me," Carvajal said. "I don't think the weather was the best for me. When I ran Philly, it was 45 degrees at the start. It started at 50-something in Boston, and I'm pretty sure it was over 60 by the half-marathon. It was too warm for me."
Carvajal's status as poor college student likely didn't help, either.
By his own admission always on a budget, Carvajal cut costs by flying to New York and busing to Boston, and rather than shell out for a hotel room, he slept on an acquaintance's couch. The trip from Lawrence to Boston took nearly 18 hours.
"That was the other factor," Carvajal said. "It was too tiring for me. Still, I ran a Boston qualifier. I qualified. I was disappointed, but by Boston standards, it was a good time. Also, last year I ran a 3:43. I ran 13 minutes faster this year. So, relatively it wasn't that bad."
And if Carvajal could have kept his lips to himself, he might have shaved a few more seconds off his time.
A Boston tradition is that the coeds at Wellesley College turn out en masse to cheer the runners. Last year, Carvajal slapped palms and enjoyed the atmosphere.
"I was going to be more aggressive," he said. "This time, I wasn't going to give high-fives to the girls like I did last year, so I was right in the center of the road. But I saw a sign that said something like, 'I'll give you a kiss.' So I ran to the side and gave a kiss on the cheek to this girl."
Copyright 2018 The Lawrence Journal-World. All rights reserved. This material may not be published, broadcast, rewritten or redistributed. We strive to uphold our values for every story published.