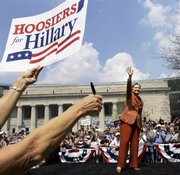 On the street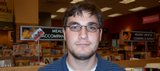 Oh sure, I think she can win it. I think in the end it's going to come down to the superdelegates, and while she might not catch Obama on the number of delegates overall, she might win enough superdelegates to support her nomination.
Washington — Hillary Rodham Clinton parlayed her campaign-saving primary victory into a fundraising bonanza Wednesday in the Democratic presidential race. Rival Barack Obama, his delegate lead intact, said, "We just keep on plugging away."
One day after Clinton's comfortable win in Pennsylvania, she and Obama looked ahead to contests on May 6 in Indiana and North Carolina and offered sharply contrasting assessments of the race to date.
"The big win that I had, the broad base of coalition that I put together, is exactly what we're going to need to have in the fall," the former first lady said, arguing that her Pennsylvania victory showed she was more electable than her rival. "And in fact that's what I've done, in big states, in swing states," since the campaign began, she told CBS.
Obama disputed that, saying he had defeated Clinton in primaries or caucuses in several general election battleground states and would "have a much better chance of winning" them in the fall. He mentioned Virginia, Colorado, Wisconsin and Iowa.
Campaign numbers
With her win, Clinton made only a modest dent in Obama's overall delegate lead, and she has virtually no prospect of overtaking him before the primary season ends on June 3. Instead, she hopes to convince party leaders who will attend the national convention as superdelegates that she is better able to defeat Republican John McCain in November, and persuade them to back her candidacy as a result.
With a handful of Pennsylvania delegates yet to be awarded, Obama had 1,723.5 and Clinton had 1,592.5 in The Associated Press nationwide count. It takes 2,025 to clinch the nomination.
Clinton and Obama each netted one superdelegate during the day.
Rep. John Tanner of Tennessee announced his support for the former first lady, and Oklahoma Gov. Brad Henry endorsed her rival.
Clinton said donors had contributed more than
$3 million to her candidacy in the hours since her Pennsylvania victory, some of it from thousands of new donors. Her campaign said she was on track for raising $10 million in the first 24 hours after her victory.
Financial reports on file with the Federal Election Commission underscored her need. Obama showed more than $40 million in cash on hand as of April 1, while her debts of $10 million exceeded her cash of just over $9 million.
McCain's stops
McCain sought to strengthen his credentials as an unconventional Republican, campaigning in a poor region of Kentucky following stops earlier in the week in Selma, Ala., site of a historic civil rights march, and Youngstown, Ohio, a down-at-the-mouth steel city.
He spent part of Wednesday in an intramural dispute, unsuccessfully urging the North Carolina Republican Party not to air a commercial that shows Obama's former minister, Rev. Jeremiah Wright, denouncing the United States from the pulpit.
Linda Daves, North Carolina party chairwoman, turned the request aside, saying, "It is entirely appropriate for voters to evaluate candidates based on their past associations."
Copyright 2018 The Associated Press. All rights reserved. This material may not be published, broadcast, rewritten or redistributed. We strive to uphold our values for every story published.