Photo Gallery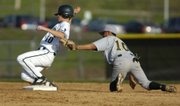 FSHS baseball vs. SMS
The performance lived up to the hype.
After waiting all season for senior transfer Kelson Boyer to become eligible to pitch, the Free State High baseball team sent its newest weapon to the mound on Tuesday.
Boyer, a confident and crafty righty with a powerful fastball and ferocious mix of breaking stuff, showed the wait was worth it by tossing a complete-game, six-hit gem in an 8-3 victory over Shawnee Mission South.
"It was exciting to see him pitch," said senior center fielder Adam Rock, who, thanks to Boyer's dominance of the SMS hitters, did not field a single ball all game. "He's a pretty talkative person, but he backed it up today."
After surrendering back-to-back singles to the first two hitters he faced, Boyer retired the next three but left the mound trailing, 2-0.
"I was pretty nervous before the game," said Boyer, who transferred from Eudora. "And the first couple innings were not too good. But I was just trying to throw strikes and get that first win as a Firebird. I can't even tell you how good that feels."
Aided by a four-run first from the Free State offense, Boyer climbed the hill in the top of the second with a two-run lead and a new mentality.
He picked up his first strikeout when SMS leadoff hitter Dustin King went down looking to end the second inning. He added four more K's over the next five innings and mixed his pitches well enough to slice through the Raiders' offense. Boyer retired nine of the final 12 batters with ground-ball outs that were coerced by his command of his pitches.
"Shawnee Mission South can swing the bat, and they were on him early," Free State coach Mike Hill said. "I think (Boyer's) slider really made the difference in the game. He was able to add his repetoire of off-speed stuff to complement his velocity. I'm sure there was some internal pressure today, but he did a great job of keeping his poise."
So, too, did the Firebirds' offense. After grabbing the lead in the bottom of the first, Free State kept rolling throughout the game. Rock led the attack with three hits, and Jordan Dreiling, Hunter Scheib, John Wilson and Cody Kukuk added two hits apiece. Overall, Free State out-hit SM South, 14-6.
The biggest blast came in the first inning when Wilson ripped a ground-rule double to the left-center field gap to put the Firebirds on the board. Wilson finished 2-for-2 with two RBIs and a run scored.
Although the Free State offense did more than enough to add to its win total, Tuesday's win likely will be remembered as the night the Firebirds introduced yet another money pitcher to the Sunflower League.
"You can never have too much pitching," Hill said. "Never."
Next up, the Firebirds (9-1) will play host to Olathe South at 5:30 p.m. Thursday.
Copyright 2018 The Lawrence Journal-World. All rights reserved. This material may not be published, broadcast, rewritten or redistributed. We strive to uphold our values for every story published.