On the street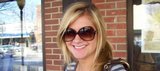 I like eating grilled foods and going to barbecues, but I'm never the one manning the grill.
Sesame Chicken Lettuce Wraps
2 cups diced grilled chicken
1 teaspoon sesame oil
1 tablespoon vegetable oil
1/2 tablespoon minced garlic
1 tablespoon minced ginger
1/2 cup sliced scallions
1/2 cup diced water chestnuts
1/4 cup orange juice
1 tablespoon soy sauce
4 tablespoons hoisin sauce
8-10 large green leaves of iceberg lettuce
1/3 cup crushed peanuts
Heat sesame oil and vegetable oil in large saute pan over medium heat. Add garlic and ginger. Saute for one minute. Add scallions and water chestnuts. Saute three to four minutes until onion is soft. Add chicken, orange juice, soy sauce and hoisin sauce. Mix thoroughly.
To serve, mound chicken mixture in lettuce leaves and sprinkle with peanuts. Fold lettuce like a burrito and enjoy!
- From "Handy Mom's Guide to Grilling"
Casey Wallace thinks nothing of grilling - rain or shine, snow or heat wave.
"My parents grilled all the time. We grew up in the country, so I guess we just kind of grilled a lot," the Lawrence resident says. "I feel like I've grilled my whole life."
Wallace has no qualms venturing into the world of barbecue - a world stereotypically dominated by men.
Not all women are so brave. And it's for those that Catherine Mayhew has written a new book, "Handy Mom's Guide to Grilling" ($19.95, Cool Springs Press).
The book is a collection of recipes and hints for busy women who can get more out of their grill - and learn not to be afraid of using it. Mayhew, a Brentwood, Tenn.-based writer and certified judge with the Kansas City Barbecue Society, has heard all the excuses under the sun.
"Something I had noticed over the years, with my friends, they would always say, 'The grill's out on the deck but I never use it, I'm too scared.' Or, 'My husband does that, the grill doesn't like me,'" Mayhew says. "And, it started me thinking, you know one of the best things you can do for your family is grill out because it's so healthy. And it's healthy without effort. It's hard to be fattening with food on a grill - you can't put the macaroni and cheese on or the mashed potatoes."
For Wallace, the health factor plays a part, as do a few other reasons, in why she and her husband love their grills - one charcoal, one gas.
"It's less work in the kitchen. It doesn't heat up your house in the summertime. It's one less pan to clean, to be perfectly honest," Wallace says. "It's so much easier when we grill - you throw the potatoes in the microwave and you throw your meat on the grill and when you're done, you're actually cleaned up, versus knowing you have to scrub your pots and pans and get all of that done."
Tips of the trade
With the health benefits and the simple clean-up, one would think it would be easy for women to get over the idea of grilling being too scary or for men only. But Mayhew says after thinking about it, she came up with the root of the grill dismissal by her friends - the same ones who crowd her house to chow down on her home-grilling.
Mayhew says there are three big reasons why women she knows seem to be afraid to fire up the grill:
¢ They don't think they know how to use it.
¢ They're afraid the propane will blow up the house.
¢ They're afraid they won't know when the meat is properly done.
After deciphering the reasons her friends won't grill, she came up with easy tricks that can give novice grillers no reason to let those fears keep them away.
Firstly, she says women can think of the grill in the same way they think of their oven and stovetop.
"You know, if you want to grill something hot, that's like using your stove. It's called direct heat," Mayhew says. "If you want to grill something over indirect heat ... that's sort of like using your oven. So, I made the analogy of that."
As for the propane fears, Mayhew says, the trick is to leave the door that houses the propane tank open while cooking. When you're done, the door will remind you to turn off the gas, just like the dinging sound in your car reminds you to turn off your headlights after you've cut the engine.
To get the meat just right, Mayhew suggests adding one more gadget to your grill arsenal: the probe thermometer. She gives the example of how to make the perfect chicken breast by using the probe's instruction guide to the best internal temperature for chicken, 160 degrees.
"You put the probe in, you set the temperature for 160, you put the alarm on and then you walk away and when it's done, it beeps," Mayhew says. "And it's perfect. It's perfect every time. It's juicy, it's not dry. That one piece of equipment just gives you so much confidence that you know when you cook something it's going to be perfect."
Grilling outside of the box
Chicken, of course, is a grill staple, as are hamburgers, hot dogs and the like. Mayhew says that with some planning, your everyday favorites can go from basic to special in no time flat. She says with two teenage boys in her home, she understands the value of getting more meals out of smaller amounts of time.
"OK, so you're doing grilled chicken one night, do two extra chicken breasts and do the Asian chicken lettuce wraps or grill two pork loins and make the pork loin and caramelized onion sandwich the next day," Mayhew says. "It really gives you more meals for the week than that one day you're on the grill."
She also encourages making other items that one wouldn't normally associate with the grill, like pizza. Mayhew says all you need to do is buy a pizza stone, get it nice and hot, roll out your dough, top the pizza, dust the stone with course cornmeal, and you've got fresh pizza in seven minutes or less.
Mayhew says that in fact, she and her family have saved money and time that used to be devoted to eating out, just by firing up the grill.
"Once you start doing this - we don't even go out to eat as much as we used to because everyone wants to come over here and have a pizza or have the lettuce wraps," Mayhew says. "The lettuce wraps cost I don't know how much at P.F. Chang's or Pei Wei, but you know at my house they cost about $2 a serving. And they're really good."
Copyright 2018 The Lawrence Journal-World. All rights reserved. This material may not be published, broadcast, rewritten or redistributed. We strive to uphold our values for every story published.