On the street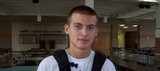 Yeah, I think it's a big deal. I think our school has pretty good school spirit, and we really look forward to this time of year with prom coming up and the seniors graduating.
Prom embarrassment comes in all shapes and sizes - the bad tux, monster zit or pit stains - but nothing is so bad as swinging through the door of the ladies room and coming face to face with a girl wearing your dress.
Same color, same length, same cut.
"If I walked into prom and somebody had on my dress, I think I would have a heart attack," Free State High School senior Lauren Garrett says. "I mean, it would be kind of funny if it happened to somebody else, but if it happened to me, I wouldn't like it very much."
The horrified screams of proms past and present are being heard loud and clear at Weaver's Department Store, 901 Mass., where savvy high school girls know to go by the book.
The book, says sales associate Kaylie Price, herself a Lawrence High grad and former prom-goer, is a way to avoid a matching prom-night dress debacle.
"We have a book that we keep that tells what dress goes to what school, like no names of course, so a lot of girls come in and ask for the book and say, 'Oh, I want to see if anyone else has the dress that I really want,'" Price says.
The book is a the brainchild of Janet Mihalchik, second-floor manager, who introduced it about 18 months ago.
"I just knew that with my daughter, I've lived in Lawrence and she went to Free State ... everyone thinks that Lawrence High or Free State comes here to get their dress and everybody looks the same," Mihalchik says. "I figured, well, if we write it down, then that'll stop that. We could track it. It's to their advantage, not mine."
Girls can track dresses as well as figure out what kind of colors or lengths are popular at their schools for the dance - long or short - so they can fit in better or standout more.
Now, Mihalchik says, girls from not only Lawrence and the surrounding area, but also Kansas City and Topeka, know about the book. Divided by high school or region, it neatly lists the type of dress, color, length and date it was purchased, leaving a clear record of dress foot traffic.
One-and-done?
Making matters more critical on the perfect dress front is the fact that because Lawrence and Free State high schools only do senior proms, a lot of girls only go one year.
"Even when I was a sophomore, the idea of prom was really fun - and especially since it's the senior year, it's the countdown to like your last big party as a high schooler," says Garrett, who will be attending her first prom Saturday. "I think the exclusivity does play a part in it because with winter formal, you know, it's open to the entire school and it's fun to have dances with the entire school. But when it gets to prom it's special to you because you're going to prom with the people you went to kindergarten with."
Lawrence High senior Ashli Trussell, however, is a bit different. She's on her fourth prom - two in Texas, soon-to-be two in Lawrence. But that doesn't mean she's not immune to finding the perfect dress - or the horror of a copycat.
"My sophomore year, when I went, this girl actually went out of the country and got a dress that was almost identical to mine," Trussell says. "She got hers there thinking no one else was going to have hers."
After deciding on a bright yellow number, though, Trussell is now logged in the book. Let all other Lawrence High girls be warned.
Also dreaming of a yellow dress was Lawrence High junior Becca Kellerman - though she won't be picking Trussell's dress, thanks to the book and a difference in taste. Trussell's dress is straight-down silk, while Kellerman has a ball-gown silhouette in mind for her first trip to prom, which is May 10.
"I've always kind of wanted the big, kind of princess style, probably like every little girl's dream," Kellerman says. "Belle from 'Beauty and the Beast' was always my idol and I was in love with her and my family still calls me 'Belle.' If I could find like a big, yellow dress and have the gloves and everything, I think that would kind of be a dream come true for me."
Finding the perfect dress, no matter what it looks like, can be a teen's dream, and despite what other people are wearing on the dance floor, Free State senior Maddie Glass is going to enjoy her only trip to the big dance.
"It's like my last hurrah with my good friends," Glass says. "I just want to go and have a good time. If someone else has my dress ... they just better not look better than I do."
Copyright 2018 The Lawrence Journal-World. All rights reserved. This material may not be published, broadcast, rewritten or redistributed. We strive to uphold our values for every story published.