Photo Gallery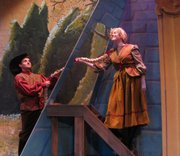 Seem-To-Be Players History
Photos of the Seem-To-Be Players through the years.
Past Event
The Seem-To-Be Players 35th BIRTHDAY and FINAL PRODUCTION
When: Saturday, April 26, 2008, 2 p.m.
Where: Lawrence Arts Center, 940 New Hampshire St., Lawrence
Cost: $8 - $10
-->
-->
They've come a long way from the Meatball Players.
In 1973, a children's theater troupe was founded under the name Mead Hall Players, hearkening back to Medieval feasts when people would sit around enjoying entertainment and each other's company.
Trouble was, the children in the audience had no idea what a Mead Hall was. So they thought the name had something to do with spaghetti and marinara instead.
Now known as the Seem-To-Be Players, the troupe has developed a strong local following with a national reputation.
But 35 years after its founding, the run is coming to an end. With a final performance this weekend, players are retiring their company name to start a new chapter in theater for the Lawrence Arts Center.
"What's funny was we started a children's theater at the time because we thought it would be easy and make lots of money for the organization," says Ric Averill, the arts center's theater director and co-founder of the Seem-To-Be Players. "It turned out to be neither easy or make lots of money, but we fell in love with doing theater for children."
For much of its existence, the group now known as the Seem-To-Be Players had its own board of directors. It merged with the Lawrence Arts Center, 940 N.H., in 1998.
When Averill, his wife, Jeanne, and a group of friends started the company, it had weekly shows that changed once a month. Most of those early days was spent in the space that now is the Jazzhaus, 926 1/2 Mass. The actors would present two short plays with vaudeville-style entertainment interspersed.
Using material written by Averill and others, they relied on minimalist costumes and sets, allowing children's imaginations to fill in the gaps.
"Kids give you really immediate feedback," Averill says. "You really know how they feel about the work immediately. There's no cloaking their emotional response."
Eventually, a set of recurring characters - the Seem-To-Be Sisters, who could take the form of whatever they wanted to become - provided the new name for the Mead Hall Players.
"That really was the essence of what we were doing at the time, which we called transformational theater," Averill says. "It means one person can play multiple roles within the show."
Small stage
Eventually, in the early 1980s, the troupe started performing several longer shows each year, instead of the regular, shorter ones. It also toured the country, often aided by grants from arts foundations.
Sometimes, up to six actors would be on the road 20 to 25 weeks in a year.
"My favorite shows were playing small schools in places like Washington, Kansas," says Jennifer Glenn, who has performed with the company since 1979. "Those kids didn't get a lot of live theater, so it's satisfying and gratifying to perform for those places - even if you're on a stage that's 2-by-2."
Averill says the company has hit several goals through the years, including:
¢ Receiving several National Endowment for the Arts grants.
¢ Receiving a Governor's Arts Award.
¢ Having several works published, including adaptations of "Robin Hood" and "The Princess and the Pea," among others.
Curtain closing
But Averill says the time is right to retire the Seem-To-Be Players' name.
Several factors played into the decision, he says. Economics makes it harder to tour now than it did in the 1980s. And requirements of No Child Left Behind have schools looking for topical presentations that fit better with their curricula.
The move also will allow the arts center to focus more on age-appropriate casting (shows in which children play child roles) and putting on more performances that integrate dance, music, acting and even opera. Averill says he won't rule out another touring show or another professional company down the road.
"I'm not going away anytime soon at all," Averill says. "The letting go of Seem-To-Be Players is just kind of a rearranging of priorities for the arts center."
More than 20 of the company's 200-some former actors will return to the arts center Saturday for a final performance of "Puss in Boots," which also was the first show the Mead Hall Players performed in 1973.
"I'm impressed - there are lots of companies that come and go," Glenn says. "For it to endure as long as it did is impressive."
Averill says he's looking forward to having a group of former actors - and fans of the company - in one place.
"There will be a sense of nostalgia," he says. "We already get people who bring their grandkids who used to bring their kids. We get that a lot now. Or people who bring their kids who remember when they came (as kids)."
Copyright 2018 The Lawrence Journal-World. All rights reserved. This material may not be published, broadcast, rewritten or redistributed. We strive to uphold our values for every story published.