Photo Gallery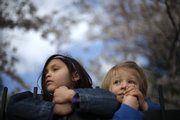 Earth Day Parade
A sunny spring day provided the perfect backdrop for the city's Earth Day celebration on Saturday.
A parade down Massachusetts Street kicked off the festivities. KU Environs, a student organization that sponsored the parade, led businesses, families and dogs to South Park where a record number of informational booths - 63 total - participated in the event.
"We've had a wonderful turnout," said Cassandra Ford, waste reduction and recycling specialist for the city, who helped organize the event. "The weather's great so that always helps."
Ford estimated the crowd to be between 800 and 1,000.
The weather wasn't the only thing Ford thanked for the attendance.
"In the past couple of years, you've seen a growing increase in the number of people who are environmentally aware and environmentally conscious and people who want to learn how to be both of those things," she said.
Ford said if people came away from the celebration with a single insight into environmental stewardship, that could help make the world a better place.
"If you can come out to an event like this and learn one small thing that you can do on a weekly basis, a monthly basis or a daily basis, if you do that, it becomes part of your life, part of your routine, and if you do that, it will lead to greater environmental consciousness," she said.
Mark Hennessy, of Lawrence, who was soaking up the sun in the park, said he learned how he could use a rain barrel at his home to conserve water, thanks to the April Showers to Water Towers Douglas County Water Festival, part of the city celebration in the park.
"As a community and as a nation, we need to evaluate a lot of our ideas and practices, especially with water," he said.
Copyright 2018 The Lawrence Journal-World. All rights reserved. This material may not be published, broadcast, rewritten or redistributed. We strive to uphold our values for every story published.