Photo Gallery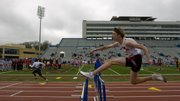 Kansas Relays, Day Three
A group of chilled-to-the bone track and field fans filed past former Kansas University great Scott Russell at the start of the men's javelin finals Friday night outside Memorial Stadium.
"Sorry I couldn't throw any more for you guys," 29-year-old Windsor, Ontario, native Russell said, apologizing to the spectators who were not interested in watching anybody but the 6-foot-9, 270-pound gentle giant throw the spear.
He was forced out of the competition after pulling his groin on his first and only throw on a chilly 45-degree evening - a Kansas Relays-record heave of 267-feet, 6-inches.
"I don't know. I guess I'm a little competitive," Russell said when asked how he surpassed his own Relays record of 264-8 (set in 2007) after incurring the injury. His throw easily bested fellow unattached competitors Eric Brown (247-5) and John Hetzendorf (246-8), as well as KU freshman sensation Iain Trimble, who was fourth in 234-11.
"I want to throw well, I guess. I risked it a little by throwing today. It's a cold day. It's probably not the best thing I've done. I probably won't be 100 percent for a month," Russell added. "(But) it was worth it. It was fun. I never regret throwing here. I love throwing at KU. I know a lot of people come out here to watch me throw. It's almost expected. I have to throw here, which is fine by me."
For some reason, Russell wasn't included on the entry list of competitors.
He didn't have any trouble talking his way into the competition, though.
"The officials know me well," said Russell, who is a legend in these parts, as well as in his homeland.
Russell is the Canadian record-holder who hopes to qualify for his first Olympics this summer. To net an A-qualifying standard, he will have to shake the injury bug, which includes arthroscopic knee surgery last October as well as tendinitis in his knee.
"It's a goal of mine," he said.
In the meantime, Russell will continue classes at KU as he pursues an advanced degree in education and a career as a teacher.
"I decided athletic training and physical therapy was not my call," said Russell, who worked at Haskell as a trainer for two years. "My fiancee was like, 'Why not do a job in track and field, what you love to do?'
"I said, 'If I was a coach, I'd not be around at all.' I've decided it'd be more fun to get healthy people healthier rather than helping injured people get healthy. I'm sure being in a class with 30 first-graders every day will still be stressful. I'll be screaming most days," he added with a smile.
He'll be doing that in this area, not Canada.
Russell and his fiancee just bought a house in the "southeast part of town."
"I think I'm a Lawrence lifer, which is fine by me. I love this place," said Russell, whose fans will be glad to hear he plans to compete at least until 2011.
Most elated is KU freshman Trimble, who already has qualified for the Olympic Trials.
"Scott knows things that my coach doesn't, and my coach (Andy Kokhanovsky) knows things that he doesn't, so I get the best of both worlds and get to put them together," former Shawnee Heights standout Trimble said. "He's had the actual experience of throwing, and then Coach K has the smarts from being around throwing his whole life. So put those two together, and I'm pretty lucky.
"We've developed a pretty good friendship so I like to see him do pretty well and get to the Olympics, and with that throw he's on his way."
Of Trimble, Russell said: "I told some people I have to be worried about my records, because he will probably be breaking them. He's a great kid."
¢ Manning shines: It wasn't the competition that worried KU senior jumper Crystal Manning.
"The battle was with the wind," KU indoor and outdoor triple jump record holder Manning said after winning the Relays triple jump with a leap of 41-5 3/4.
"It's really tough because I'm skinny," the lean 5-foot-8 standout added with a laugh. "It was a disadvantage, but I was able to push through. I've competed in worse weather, but the wind (in her face) was really pushing me back."
Manning, who won the 2008 Big 12 Indoor triple jump and long jump titles, conquered a west-northwest wind of 15 mph with gusts up to 24 mph.
She outdistanced Nebraska's Zarinah Suluki-Drakes, who placed second in 41-1 1/2.
"It actually is," Manning said, asked if it was a thrill to win a Relays title. "Even though it is not conference, it's my first time ever to win at the Relays. I remember my freshman year I was horrible."
Manning, the 2007 Big 12 Outdoor champ, placed fifth in the long jump at the 2007 Relays. She notched second in the triple jump in '06 and was fourth in the triple and seventh in the long jump back in '05.
¢ Bonds first: KU's Lauren Bonds won the steeplechase in 11:02.83. She is a sophomore from Hutchinson who was all-Big 12 in cross country last fall.
Copyright 2018 The Lawrence Journal-World. All rights reserved. This material may not be published, broadcast, rewritten or redistributed. We strive to uphold our values for every story published.