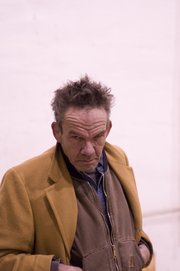 Want to know the name of Lawrence's newest art gallery? It might be DotDotDot ArtSpace. Then again, it might not.
No matter the name, the latest Lawrence venue to sell art, at 1910 Haskell Ave., opens Saturday night.
Gallery co-owners - about eight members of the Fresh Produce Art Collective - have joined forces for the exhibition. For now, it's called DotDotDot ArtSpace, but co-owner Paul Flinders says that name may or may not change.
"There's suspense," he explains.
The eight artist/organizers will work together to choose shows for the small space and hope to change shows monthly, Flinders says. Saturday's opening - from 5 p.m. to 9 p.m. - is for a show by local artist Wayne Propst, known for his bizarre creations that often incorporate found objects.
Fresh Produce formed in early 2007. It's a loose-knit group of local artists who get together to share ideas. They also have shows every few months.
"It was the right time" for a gallery, Flinders says. "We wanted to create a space to show not only what Fresh Producers were doing, but others. We've had such a strong response with Fresh Produce."
As far as opening an art gallery in a strip mall away from downtown, Flinders says: "At first it seems outlandish, not to have it in the center of things. But we thought, why not bring the center out here?"
DotDotDot isn't the only new art gallery opening in Lawrence. Fresh Produce artists also are involved in the new Wonder Fair gallery, which opens its first show April 26 at 803 Mass.
Copyright 2018 The Lawrence Journal-World. All rights reserved. This material may not be published, broadcast, rewritten or redistributed. We strive to uphold our values for every story published.