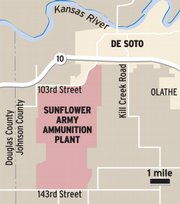 De Soto — Owners of Sunflower Army Ammunition Plant welcome a traffic study for the region as a way of getting answers about how to develop the 9,065-acre property.
Kansas Department of Transportation announced April 10 it would conduct a traffic study of Douglas, Johnson, Leavenworth, Miami and Wyandotte counties. The $1 million first phase will examine the road system and its ability to handle increased traffic from such factors as the coming Burlington Northern Santa Fe intermodal complex near Gardner, continued growth near the Kansas Speedway in Kansas City, Kan., a new turnpike interchange near Tonganoxie and redevelopment of Sunflower and the Farmland Industries complex in Lawrence.
The second phase will identify improvements to existing roadways and the new roads and right-of-way needed to handle increased traffic and their cost.
KDOT planning engineer Thomas Dow said the department expected to have an engineering firm in place to start the first phase in June. It is expected to take 12 to 18 months.
K-10 Association executive director Rich Caplan said it was his hope that one of the recommendations to emerge from the two-phase study was a new north-south road connecting Interstate 35 with the Kansas Turnpike at the new Tonganoxie interchange.
He and Sunflower Redevelopment LLC executive director Kise Randall said there has been speculation on the route among planning and economic development circles since the federal government transferred the closed ammunition plant to Sunflower Redevelopment in 2005. Randall welcomed the start of the KDOT study as a step to moving those discussions forward.
Last May, Sunflower Redevelopment hired the Denver-based firm Design Workshop to do the master plan of the plant's redevelopment. Randall said at that time it would take about 14 months to complete the master plan, but questions about the nature of the north-south roadway called that goal into question.
"We've been through a couple of concept sketches," she said. "One of things we've found is it's tough to go through the planning process if you don't know if you have a parkway or freeway. If you have a Ward Parkway, it's a lot different than if you have Highway 69 through your property."
A Sunflower route is not the only route possibility KDOT could recommend for the north-south road. Some conjecture has been given to a north-south route through Douglas County that would intersect with Kansas Highway 10 between Lawrence and Eudora, Caplan said.
"I think the study will evaluate alternative routes," he said. "At this point, they are very conceptual, logical ideas."
Copyright 2018 The Lawrence Journal-World. All rights reserved. This material may not be published, broadcast, rewritten or redistributed. We strive to uphold our values for every story published.