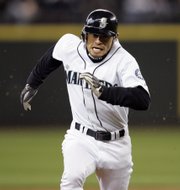 Seattle — John McLaren didn't need a bat or ball in spring training. He needed a pulpit.
He constantly preached during his first camp as a major-league manager about the need to manufacture runs with bunts, hitting behind runners and taking extra bases.
The sermons paid off Tuesday night.
Jose Lopez became the 12th player in major-league history to hit three sacrifice flies in a game, Yuniesky Betancourt drove in three runs and the Seattle Mariners set a season high for runs with an 11-6 victory over the previously stingy Kansas City Royals.
"Yeah, pretty cool," said Lopez, the 24-year-old second baseman and No. 2 hitter on entering baseball's record book. "I've just been listening to the manager: 'Get the base hit. Get the long fly ball. Get the RBI."'
Kansas City entered with an encouraging 8-5 record thanks to a major-league-best ERA of 2.46 following consecutive complete games by Brian Bannister and Zack Grienke. It was the first time the Royals had pitched back-to-back complete games in eight years. A year ago, Kansas City had a 4.79 ERA through 13 games.
But after his teammates gave him a 1-0 lead, John Bale (0-3) allowed seven hits and five earned runs in three-plus innings. His results fit his complaint of a "dead arm."
"I'm not in any pain," said Bale, who spent last season as a reliever. "The ball's just not coming out," of his hand the same way.
Copyright 2018 The Associated Press. All rights reserved. This material may not be published, broadcast, rewritten or redistributed. We strive to uphold our values for every story published.