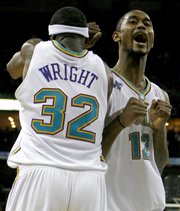 Magic 121, Hawks 105
Atlanta - Maurice Evans scored 27 points and six of his Orlando teammates also scored in double figures.
Evans scored 23 points in the second half as both playoff-bound teams substituted liberally, knowing the game had no impact on their postseason positioning.
Orlando already clinched the Southeast Division and will be the No. 3 seed in the East. The Hawks are headed to the playoffs for the first time since 1999 as the eighth-seeded team.
Nets 112, Bobcats 108, OT
East Rutherford, N.J. - Richard Jefferson scored 28 points and hit a go-ahead jumper and New Jersey rallied from a 20-point first-half deficit to beat Charlotte in overtime.
Vince Carter added 18 points, and Devin Harris had 17 and eight assists in the meaningless game between two non playoff teams.
Hornets 114, Clippers 92
New Orleans - David West scored 32 points, and New Orleans clinched the Southwest Division by beating Los Angeles.
The Hornets will have at least the No. 2 seed in the playoffs in the West.
Furthermore, Hornets coach Byron Scott earned his 300th career victory. The Hornets finished 30-11 at home for the third time in franchise history. The club record is 32-9, set in 1997-98.
New Orleans struggled for a half before putting the Clippers away with a 26-6 spurt.
This was their most significant victory in New Orleans, where they moved for the 2002-03 season and played for three years before Hurricane Katrina forced them to Oklahoma City for all but 10 games during the previous two seasons.
Pistons 115, T'wolves 103
Auburn Hills, Mich.- Jarvis Hayes scored 20 points and Richard Hamilton added 18.
Blazers 113, Grizzlies 91
Portland, Ore.- James Jones hit six threes and had 20 points for Portland.
Lakers 124, Kings 101
Los Angeles - The Lakers began the season in chaos 51â2 months ago. They finished it as the Western Conference champions.
Pau Gasol had 22 points and the Lakers clinched the No. 1 seed in the West and home-court advantage throughout the conference playoffs.
Copyright 2018 The Lawrence Journal-World. All rights reserved. This material may not be published, broadcast, rewritten or redistributed. We strive to uphold our values for every story published.