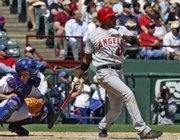 Angels 7, Rangers 4
Arlington, Texas - Gary Matthews Jr. snapped out of a slump with a tiebreaking, three-run double, and the Los Angeles Angels rallied to beat Texas on Tuesday as the Rangers ended their first homestand of the season with their fifth straight loss.
Matthews was in a 3-for-27 slide before his double to left-center in the sixth inning off Josh Rupe (0-1) broke a 4-all tie.
Rupe took over to start the sixth for Kevin Millwood, who left after 70 pitches due to a bruised left shin sustained when he was hit by a batted ball in the second. The Rangers said Millwood came out because his leg started to stiffen up on him.
Darren Oliver (1-0), like Matthews a former Ranger, threw 22â3 scoreless innings in relief of starter Dustin Moseley.
Blue Jays 11, Orioles 3
Baltimore - Aaron Hill hit a three-run homer, Alex Rios and Matt Stairs each had two RBIs, and Toronto cruised past Baltimore. David Eckstein had three hits and scored three runs.
White Sox 4, Athletics 1
Chicago - John Danks celebrated his 23rd birthday with his first win in 12 starts, taking a shutout into the eighth inning.
Red Sox 5, Indians 3
Cleveland - Jason Varitek hit a pinch-hit home run in the ninth inning off Jensen Lewis to lead Boston.
Tigers 6, Twins 5
Detroit - Miguel Cabrera hit a two-run homer to cap Detroit's second straight eighth-inning rally. Magglio Ordonez homered and drove in two runs, and Gary Sheffield and Carlos Guillen also hit home runs for Detroit.
Yankees 5, Rays 3
St. Petersburg, Fla. - Andy Pettitte allowed three runs over seven innings, and Hideki Matsui homered.
Copyright 2018 The Associated Press. All rights reserved. This material may not be published, broadcast, rewritten or redistributed. We strive to uphold our values for every story published.