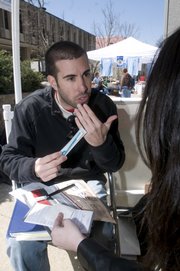 College-age students increasingly risk contracting HIV, but many don't want to confront that uncomfortable fact, according to 15 Seconds, a student group at Kansas University.
To raise awareness of the risks associated with unprotected sex, 15 Seconds, in coordination with the Douglas County AIDS Project (DCAP) and KU's Watkins Memorial Health Center, is offering free HIV testing on KU's campus this week.
Monday marked the first day of 15 Seconds Week, which refers to a statistic noting that someone in the United States contracts HIV every 15 seconds. Twelve students were tested Monday in a private tent outside Wescoe Hall, organizers said.
"We're really just trying to raise awareness because HIV/AIDS is almost neglected by people our age," said KU junior Ajani Jackson, a 15 Seconds committee member. "We think we have a bulletproof vest," but young people are just as vulnerable as anyone else.
DCAP representatives administered the tests, which involved taking saliva and tissue samples with a cotton swab. The tests take about 15 minutes to complete, and results are available within three or four days, said Ken Sarber, a health educator with Watkins Health Center.
Sarber hoped students would take advantage of the free testing. "I know a lot of students are curious if they have HIV. A lot of people don't want to pay for (a test)," he said.
KU senior Melissa White was passing out safe sex packets, which included condoms, lubrication and informational pamphlets. She said students had too little exposure to safe-sex education. White was tested for HIV at DCAP, 2518 Ridge Court, two weeks ago.
"I wanted to do it so I could tell everyone else it's not scary," she said.
Ariana Cohen, a KU sophomore from San Diego, said the test administrators put her at ease when she was tested Monday afternoon.
"They told me it would be short and simple, so I wasn't nervous," she said.
"I see some people who are extremely nervous, and I've seen some people who are used to making it part of their routine every six months," said Jim Weatherly, education and outreach coordinator for DCAP, who administered the tests Monday. He estimated that half of those examined Monday had never been tested for HIV before.
Sarber said he thought some students are apprehensive about getting tested for the virus.
"HIV is just something that scares students," he said.
The HIV tests continue today, from 10 a.m. to 2 p.m., in the Kansas Union, and again outside Wescoe Hall from 10 a.m. to 2 p.m. on Wednesday. Testing is by appointment only.
Only a few spots remain for testing today and Wednesday, but White said 15 Seconds may put on another testing day later in the spring. She said people who are unable to get tested at KU can go to DCAP for a free exam.
Copyright 2018 The Lawrence Journal-World. All rights reserved. This material may not be published, broadcast, rewritten or redistributed. We strive to uphold our values for every story published.