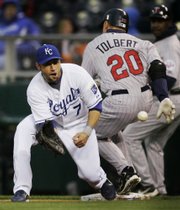 Kansas City, Mo. — Livan Hernandez is off to a Johan Santana-like start.
Hernandez, whom Minnesota signed to a one-year contract on Feb. 12, became the opening-day starter after Santana was traded to the New York Mets. Three starts later, Hernandez might have made a couple people forget all about the Twins' former ace.
He scattered seven hits over seven innings Friday night, helping Minnesota beat the Kansas City Royals, 5-0.
"We've got a great bullpen, one of the best in baseball, so you got to go six, seven innings, that's it," Hernandez said. "Everything is going the way I want it. Everything is working perfect right now."
Hernandez struck out three and walked one, lowered his earned-run average to 2.57, and is 3-0 for the first time since 2002, when he won his first four starts for San Francisco.
"He's a veteran, and he knows how to change speeds and locate the ball," Twins manager Ron Gardenhire said. "That's what he does. No matter how many times you face him, if you're locating like he did tonight and changing speeds like he did tonight and given the variety, they couldn't really sit on one thing. Every time you'd sit and wait on that slow curve, he'd throw a fastball right by you at 84 miles per hour. That's just knowing how to pitch."
The Royals, who were 1-for-8 with runners in scoring position, loaded the bases in the fifth with one out, but Hernandez struck out Jose Guillen swinging and retired Billy Butler on a grounder to third.
"I know Guillen has got a lot of power, so you don't want to miss with your pitch," Hernandez said.
Copyright 2018 The Associated Press. All rights reserved. This material may not be published, broadcast, rewritten or redistributed. We strive to uphold our values for every story published.