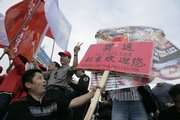 Buenos Aires, Argentina — Runners surrounded by rows of security carried the Olympic flame past thousands of jubilant Argentines on Friday in the most trouble-free torch relay in nearly a week.
People showered the parade route with confetti as banks, government offices and businesses took an impromptu half-day holiday for the only Latin American stop on the flame's five-continent journey from Ancient Olympia to the Aug. 8-24 Beijing Games.
Small groups of fenced-off demonstrators protesting China's human rights record exchanged jeers with hundreds of pro-China demonstrators, but there were no major disruptions. Three water balloons thrown at a torchbearer as he passed the presidential palace were easily batted away by guards.
The biggest threat seemed to be blustery winds that caused the propane-powered flame to flicker repeatedly.
"This is beautiful, a marvelous spectacle," said Marcelo Tejera, 26.
Mayor Mauricio Macri took the torch from Chinese organizers and opened the relay by passing it to three-time Olympic windsurfing medalist Carlos Espinola, who jogged into Buenos Aires streets flanked by Chinese bodyguards. Heavyset police from Argentina's navy huffed to keep up.
Another torchbearer climbed into a shell and rowers sped the flame down a muddy River Plate canal, their long oars flashing beneath gathering storm clouds. Back on land, runners jogged past the pink presidential palace and the iconic Obelisk.
Tennis Hall of Famer Gabriela Sabatini capped the relay by running down a long carpet into the hall of an equestrian club, where she ignited a flame in a giant metal bowl, to warm applause.
"I'm supercharged with emotion," she said, her voice breaking. "It's so impressive to see how people have experienced this."
Heavy security accompanied the torch. About 1,300 federal police, 1,500 naval police and 3,000 traffic police and volunteers guarded the 8 1/2-mile route, and at least four security layers swaddled the torchbearers.
A tight group of Chinese guards wearing Argentina's blue-and-white surrounded the runners, with riot police driving alongside. Farther out, a line of burly men in blue-and-black track suits linked hands in a moving cordon, and plainclothes federal police patrolled beyond that.
Liu Qi, head of the Beijing Olympics Organizing Committee, told senior International Olympics Committee officials in Beijing on Friday that additional steps had been taken to protect the flame, and IOC spokeswoman Giselle Davies said "we're very confident and comfortable with that."
Copyright 2018 The Associated Press. All rights reserved. This material may not be published, broadcast, rewritten or redistributed. We strive to uphold our values for every story published.