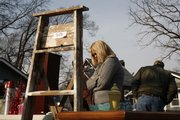 It's that time of the year, when yard sale signs start sprouting up on street corners and garages are unloaded onto lawns for bargain-hunters.
Veteran garage saler Colleen Edwards of Fresno, Calif., offered the following suggestions for making a yard sale successful:
¢ Analyze your inventory. Decide first if a garage sale is right for you. Unique items that are likely to interest a niche audience are best sold online.
"If you have things that are considered ordinary - books, shoes, baby clothes, kids' toys - you're not going to sell those things (online)," Edwards says.
Small luxury items (such as jewelry, figurines and collectibles) have a narrow market and can be shipped easily. Garage sale material is stuff that's not worth paying someone else to deliver, either because it's cheap (worn T-shirts) or large (appliances and furniture).
¢ Determine the size of your sale. If you have extraordinary items, you might hold your own sale. But if you're hoping for lots of foot traffic, open the event to neighbors.
Either way, don't do it all yourself. Beforehand, you'll need help moving appliances and furniture and tagging items. During the sale, when there are lulls, you'll have company. When it's busy, it's easy to become overwhelmed if you're alone.
¢ Consider advertising. Besides time, date and location, newspaper ads and Internet listings need to emphasize what's different about your sale. If you've included neighbors, mention that it's a multifamily event.
¢ Pick the right day. Don't compete with big sports events or holiday celebrations. Saturdays are almost always better than Sundays.
¢ Take care with signs. Unless you live on a busy street, you'll need to draw customers in with signs. "You need not just something on the corner but something that walks them to the area, signs with arrows every 50 yards or so, so they can follow a trail," Edwards says.
Putting signs on trees is bad form. Don't do it.
After the sale, remove all signs - both as a courtesy to neighbors and to prevent people from cruising past your house the next weekend.
¢ Plastic grocery bags are golden. Customers can carry (and buy) more. Later in the day, when you're ready to discount everything, you can stuff merchandise into the bags and sell them for $1 each.
Start with enough cash to make change. You need at least $40 in coins and small bills. Inevitably, the first couple of customers will have nothing but $20 bills and need change. Bigger sales require more, maybe as much as $200.
¢ Tag only expensive items. It's too much work to put prices on everything. Besides, if you want to discount later in the day, then you don't have to run around removing or replacing tags.
¢ Put your best foot forward. Many potential customers will drive past if they don't see good stuff from the car. Unless you have no choice because of weather, move everything outside.
¢ Haggle at will. Don't take it personally. Price items high enough that there's room to come down. Early in the day, stick to your prices. Later on, be more eager to drop them.
¢ Involve your kids. Let them share in the profits. Edwards says when kids learn they can get money for toys they don't play with anymore, they'll be enthusiastic about getting rid of them without the usual arguments.
¢ Plan your end game. You're going to have stuff you can't sell. What will you do with it? Donate? Recycle? Don't wait until the end of the day, when you're wiped out, to decide.
If you're buying
Jennifer Farrell, host of A&E;'s "Find & Design," has tips for buyers:
¢ Go early. Farrell says everything good is gone by noon. "Whatever the time listed is, go five minutes ahead of time. That's when you're going to get the best finds."
¢ Or go late. "You'll get whatever's left for a song," she says.
¢ Haggle politely. If an item is tagged, the seller is serious about the price. Don't offer less than 50 percent for it.
¢ Let the seller go first. Don't make an offer if there isn't a price. You'll only be competing against yourself.
¢ Don't go overboard. You don't want to buy so much that you have to have your own sale next month.
Copyright 2018 The Lawrence Journal-World. All rights reserved. This material may not be published, broadcast, rewritten or redistributed. We strive to uphold our values for every story published.