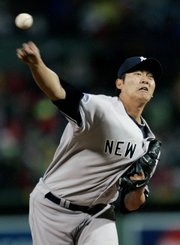 Yankees 4, Red Sox 1
Boston - Chien-Ming Wang added an outstanding pitching performance to the Yankees-Red Sox rivalry - a two-hit complete game.
In the teams' first meeting of the season, Wang gave up only a home run to J.D. Drew and a bunt single. Wang (3-0) allowed only one other runner, on an error.
A struggling Jason Giambi gave New York a 2-1 lead with a leadoff homer in the seventh inning. Melky Cabrerea then hit a sacrifice fly, and Bobby Abreu singled in the final run.
Rays 10, Orioles 5
St. Petersburg, Fla. - Carlos Pena homered twice and drew a bases-loaded walk in the eighth inning to finish with six RBIs for the Rays.
Athletics 9, Indians 7
Cleveland - Reigning AL Cy Young winner C.C. Sabathia gave up nine runs and 12 hits in his shortest outing in nearly two years.
Joe Blanton allowed five runs over 72â3 innings to win for the first time in six starts.
Tigers 5, White Sox 2
Chicago - Detroit regrouped after losing Dontrelle Willis to a knee injury in the first inning, and Magglio Ordonez had a bases-loaded single, and the Tigers won for just the second time all year.
Willis slipped and hyperextended his right knee in the first inning.
Blue Jays 8, Rangers 5
Arlington, Texas - Lyle Overbay hit a three-run double, Vernon Wells drove in two runs and Toronto ended a three-game losing streak.
Mariners 8, Angels 5
Seattle - Raul Ibanez hit two home runs off Jered Weaver on Friday night, lifting Felix Hernandez and the Mariners past the Angels.
Ibanez drove in three runs during the season's first game between top rivals in the AL West.
Ibanez is now 12-for-21 (.571) with four homers against Weaver. He added a double off Darren Oliver in the seventh for an insurance run that made it 6-4.
Copyright 2018 The Associated Press. All rights reserved. This material may not be published, broadcast, rewritten or redistributed. We strive to uphold our values for every story published.