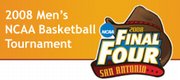 Get your March Madness fix at KUSports.com.
San Antonio — The NCAA Tournament is supposed to be unpredictable. This one went just as planned for Kansas.
When the going got tight, the Jayhawks were going to make Memphis take free throws. The Tigers did not live by the free throw in compiling the most wins in NCAA history. But they sure died by them Monday night.
They missed four straight when one might have gotten them a title. That kept Kansas alive long enough for what seemed inevitable at that point.
Mario Chalmers made a three-pointer with two seconds left. That sent the game into overtime, but it already had been decided. You could see it on the faces of Chris Douglas-Roberts and Derrick Rose. They knew they'd blown it and handed critics all the ammo they needed.
The rap on Memphis was it had great talent, but its wild-shooting ways eventually would catch up with it. The predictable finish came at the end of a game that pretty much went as both teams hoped and feared.
Kansas hoped its fleet of athletes could contain Memphis' offense. Except for Douglas-Roberts doing a George Gervin routine in the first half, the Jayhawks frustrated the Tigers' slashers.
Memphis hoped it could stay close if that happened. It did, and then Rose took over.
He missed Sunday's news conferences after apparently overdosing on Gummy Bears Saturday night.
The upset stomach may have accounted for his 1-for-4 shooting in the first half. Whatever it was, Rose then turned back into the phenomenon he was all tournament. He scored 10 straight points, including a splay-legged bank-in as the shot clock went off.
That gave Memphis a 56-49 lead, and set up the most predictable part of the evening. Kansas started fouling and Memphis started missing.
It didn't happen right away. But in the last two minutes, John Calipari's prediction did not come true.
He said the Tigers' 60.7 free-throw percentage in the regular season didn't matter. Considering they were 38-1, it was hard to argue.
But this wasn't a January Conference USA game at UCF.
Calipari said tough guys make tough free throws when the pressure is on. Memphis made 20 of 23 in its semifinal win over UCLA, but only Rose and Douglas-Roberts shot them. When they had to make them Monday, the tough guys didn't.
They call Douglas-Roberts CDR, but CPR was what he needed. The Tigers missed five straight in the final two minutes. Their frustration was obviously building. After an offensive rebound and timeout, Douglas-Roberts slammed the ball down. It bounced about 20 feet in the air, and everybody held their breath.
Would the refs dare call a technical with 13 seconds left? Douglas-Roberts swiveled his head with a pleading look on his face.
The refs converged on him, and one of them patted his chest.
He appeared to tell CDR to calm down. He should have reminded him and Rose how to relax and make their free throws.
The freshman missed two more with 10.8 seconds left. Down zipped the Jayhawks with a chance to tie. Chalmers did that, and depression set in on the Delta.
Memphis was so caught up in the Tigers that Graceland had been bathed in blue lights the past week.
Turn out the lights, the party's over. As predicted.
Copyright 2018 The Lawrence Journal-World. All rights reserved. This material may not be published, broadcast, rewritten or redistributed. We strive to uphold our values for every story published.