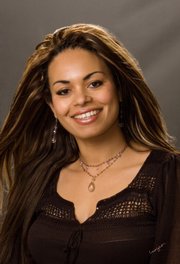 They'll have beautiful smiles. Graceful walks. Well-voiced opinions.
But what may strike some viewers watching Friday's Miss USA pageant is that five women representing the states of Kansas, Missouri, Nebraska, Arkansas and Oklahoma have to-die-for hair.
Glossy, thick, swingy, magnificent hair.
Two are brunettes, two are blondes, and one's a redhead. The shades of difference come with one common strand - Lawrence resident Christina Frazier.
Frazier, who owns the Lenexa-based salon Connections for Hair, did hair extensions for all five of the region's representatives to the pageant (8 p.m., NBC, Sunflower Broadband Channels 8 and 14), which is run by Donald Trump and is a precursor to the coveted Miss Universe pageant.
"Obviously, the girls are beautiful, but everyone in Hollywood, basically, has hair extensions," Frazier says of extra pieces of hair applied to the head and modeled by hair chameleons like Paris Hilton and Nicole Richie. "(It's) just that extra something to help them win is what they're looking for."
Entering the pageant scene
Frazier, on the other hand, wasn't exactly looking to become a hair guru to beauty queens. On a whim, she was recommended to Vanbros and Associates, an Overland Park-based public relations firm that handles the region's contestants.
"One of our former titleholders was a client of hers and recommended her to us as somebody that could do really, really high-quality and very fashion-forward or very contemporary hair extensions that didn't damage girls' hair permanently," says Vanbros' John Vannatta, executive director for the Miss USA and Miss Teen USA pageants in those five states. "All five (contestants) ended up using her services and are just absolutely thrilled with it."
Thrilled, but why do they need hair extensions in the first place? What kind of "something extra" can some extra hair really provide?
It's all about adding in more beauty without setting off viewers' lie detectors, says Frazier.
"The main thing is that the girls have to look absolutely natural. They can't look like they have hair extensions, for instance," Frazier says with a laugh. "They need to look 'enhanced,' I would say. We're trying to make the girls stand out and not have her hair stand out. ... It's kind of a subtlety thing."
Vannatta appreciates that subtlety.
"There may be only three or four strands of extensions in there that are just for a little extra thickness, and that's one thing I really like about Christina, too - she doesn't try to oversell somebody on what they need or convince them that they all have to have, you know, hair down to the nape of their back or anything like that," Vannatta says. "She's really, really meticulous. She's kind of like a hair artist, I'd guess you'd say."
No to Britney Spears
Frazier began working with extensions 13 years ago - before non-Hollywood types even knew what they were. She's experimented with different techniques, kinds of extensions and has owned Connections for Hair for nearly five years. She abhors stylists with little training and experience who create horror stories that she has to work hard to undo.
"It's just amazing how many people will just take one class, one day, and then charge somebody thousands of dollars and then have them look like Britney Spears and they look terrible," she says, adding that she wouldn't jump at the chance of fixing the pop star's hair, which has been a tangled web of extensions since she shaved her head more than a year ago.
"The thing about Britney Spears is, if Britney Spears came to my salon with $10,000 in her pocket, I'd say no," she says. "Our reputation is based on having healthy hair and having our clients not looking like they're wearing extensions. But you have to be able to say 'no' to people. Because extensions are great, they do not damage the hair if they're done properly, but there are just a lot of people out there who would rather take the money and not take the time."
That is exactly why Vannatta decided to trust his pageant competitors' tresses with Frazier.
"A lot of the old types of hair extensions would damage a girl's real hair. And could do quite a bit of damage, could leave their hair broken, and frizzed and frazzled," he says. "What Christina has developed on her own, and the extensions that she uses, does not damage a girl's hair at all, and they also last longer than traditional extensions, which is great because the girls, most of them worked with her probably two to three weeks ago and they're at the Miss USA pageant right now and they still don't compete (until Friday). These extensions have had to last a month, a month and a half. A lot of times, traditional extensions start coming out before that time period expires."
Frazier is no stranger to making her work last. She says that about 25 percent of her clients come in to see her from at least an hour and a half away. Some drive and some fly, just like the pageant contestants.
"A lot of our clients, if they move away, it's cheaper for them to fly back, get it done," Frazier says. "They know it'll be done right, and it's still cheaper for them then to get it done where they live."
Basic hair extension services at the salon start at between $550 and $975 depending on the type of extensions used and how the extra hair is applied.
Frazier, for one, will be watching the pageant on TV. And she's looking forward to helping next year's crop of girls reach in their crowning moment.
"The thing about the pageant girls is they're very, very nice, and they're very mature," Frazier says. "When I first thought about doing them, I thought, oh, great, because I think I've watched too many movies, you know? I thought they'd be catty, and like, you know, 'No! That's my tiara!' or whatever.
"But actually, they're very poised ... They're just so professional, and they're just very, very nice to work with."
Copyright 2018 The Lawrence Journal-World. All rights reserved. This material may not be published, broadcast, rewritten or redistributed. We strive to uphold our values for every story published.