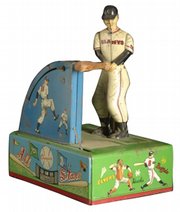 Current prices
Current prices are recorded from antiques shows, flea markets, sales and auctions throughout the United States. Prices vary in different locations.
¢ Mickey Mouse scissors, attached die-cut tin Mickey figure running down the top of the blades, 1930s, 3 1/2 inches, $60.
¢ "Wallace for President" political button, silhouette shadow of FDR, white and navy blue, 1948, 2 1/8 inches, $95.
¢ Kool cigarettes sign, cardboard, penguin as mail carrier with leather pouch holding large pack of cigarettes, 1950s, 20 x 30 inches, $185.
¢ Steuben Pomona lemonade glasses, stenciled mark on base, set of 4, 6 inches, $280.
¢ Coin-silver ladle, oval bowl, rounded handle, marked "Michael Gietler, Richmond, Va.," 1806-1813, 11 1/2 inches, $635.
¢ Royal Worcester serving set, pitcher, 3 matching mugs, fitted tray, gilt Japanese-style design, cherry blossoms and cranes, blue ground, purple mark, 1883, 6-1/2-inch pitcher, $690.
A 1950s battery-operated tin toy sold recently for $390. It wasn't working, was missing parts and wasn't marked with a maker's name. But it was colorful and attractive, and when working it showed a baseball player swinging a bat. Bidders knew it was in poor condition, but it had original paint and parts. It represented the "great American game," and those who like baseball liked the toy. It was a good size - 4 by 6 by 7 inches - to display on a shelf. The pictures on the side of the toy showed more ballplayers in bright colors. It was even marked "Champion All Stars," and the player was wearing a Giants uniform. A nostalgic fan who went to the 1961 All-Star game in San Francisco hosted by the Giants might have wanted the toy. If it had been working, made by an important maker and had all its parts, it could have sold for $800 even if it was less than 60 years old. If it had been a perfect tin toy showing a man drinking, it might have sold for less than $100. Value depends on emotion and supply as well as condition and age. If no one wants your old, pristine toy, it won't sell.
Q: A car commercial recently mentioned that the first bathtub in the White House was installed for President Millard Fillmore (1850-1853). I thought that was a myth. When was a bathtub put in the White House?
A: The President Fillmore tub tale is a fiction created by journalist H.L. Mencken in 1917. It was copied in all sorts of reference books and newspapers, and it still fools people today. The most accurate information seems to be that President Andrew Jackson had a tub installed in 1831 that used water pumped by hand through iron pipes. Tubs were installed later in other rooms, but it was not until 1902, during the administration of Theodore Roosevelt, that modern plumbing was available in most of the White House. Indoor plumbing and bathtubs were not used in most homes until the 1920s.
Q: My mother enjoyed refinishing antique furniture. For our wedding in 1951, she gave us a commode marked "Chittenden & Eastman, Manufacturers of Furniture, Burlington, Iowa." What can you tell us about the commode's age and maker?
A: Chittenden & Eastman's history goes back to 1866, but the Burlington company did not start manufacturing furniture until about 1890. In the 1920s, the company made a lot of reproduction furniture - furniture in early-American styles. A commode is a cabinet designed to hold a wash basin and water pitcher on the top and a chamber pot behind the cabinet door. It's not a furniture form commonly made from the 1920s on, so your commode might date from as early as the 1890s. Chittenden & Eastman eventually became Eastman House and concentrated on making mattresses.
Q: I have two pieces of Harker Pottery in the Orange Blossom pattern. The backstamp is a bow and arrow with the words "Harker 1840." Are they really more than 160 years old?
A: No. Harker Pottery Co. was incorporated in East Liverpool, Ohio, in 1890, but members of the Harker family had been making pottery in the area since 1840. The company was sold to Jeannette Glass Co. in 1971, and operations ceased in 1972. Several different bow-and-arrow marks were used. The bow-and-arrow mark with just the word "Harker" and the year 1840 was used from about 1930 to 1945.
Tip: Protect the finish on your furniture. Put felt pads on the bottoms of lamps and other ornaments on tabletops. If you like vases of fresh flowers, buy custom-cut pieces of glass to protect the tops of tables and chests from water stains. Look in the phone book for a local source. Be sure to put round, clear plastic discs under the glass to let air circulate.
Copyright 2018 The Lawrence Journal-World. All rights reserved. This material may not be published, broadcast, rewritten or redistributed. We strive to uphold our values for every story published.