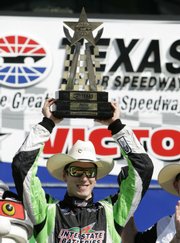 Fort Worth, Texas — After all the laps Kyle Busch has led in the NASCAR Nationwide Series this season, he finally led the only one that ever really matters.
Busch won at Texas Motor Speedway in dominating fashion Saturday, leading 126 of the 200 laps and finishing more than a second ahead of Jeff Burton. With an average speed of 151.708 mph, it was fastest Nationwide race at the 11â2-mile high-banked track.
"I never won here, and I proved that. I don't know where Victory Lane is," Busch said. "I got lost getting here."
The caution flag came out with 10 laps left after Kyle Krisiloff crashed on the backstretch. Instead of pitting for new tires, Busch kept his Joe Gibbs Racing Toyota on the track.
On the restart with seven laps to go, Busch stayed out front and stretched his gap ahead of Burton's Chevrolet. Clint Bowyer, the series points leader, had two fresh tires and gained two spots in the closing laps to finish third in another Chevrolet.
"He was just rolling," Burton said of Busch. "The best car won today."
Burton was heard on the radio during the closing laps expressing regret about not pitting for new tires. But he admitted afterward that it wouldn't have mattered.
Busch started 31st and worked through the field to lead four times, including the final 43 laps after an earlier stretch of 60 straight laps interrupted only by the last series of green-flag stops.
Copyright 2018 The Lawrence Journal-World. All rights reserved. This material may not be published, broadcast, rewritten or redistributed. We strive to uphold our values for every story published.