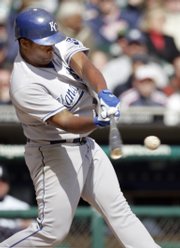 Detroit — The Kansas City Royals were supposed to provide a perfect launching pad for the Detroit Tigers' highly touted offense.
The Royals pitchers did not cooperate, and the Tigers failed to launch.
Zack Greinke had another outstanding pitching performance for Kansas City, allowing one run in seven innings as the Royals finished off a season-opening sweep with a 4-1 victory on Thursday.
The Tigers and their $138.7 million payroll managed five runs in the series, including just one in the final 21 innings.
"We stunk," Tigers manager Jim Leyland said. "We look like we're just going up there and giving at-bats away without any purpose. The manager's responsible for the preparation and the performance of the club, and right now, we don't look very prepared.
"We just look like dead."
Detroit is hitting .206 with 24 strikeouts in three games.
"That's not going to happen too many times to that team," Greinke said. "They might not have another stretch like that all year."
Kansas City, the only remaining unbeaten team in major-league baseball, is 3-0 for the first time since winning its first nine games in 2003. Last year, the Royals didn't win a series until their sixth try, when they took two of three against Minnesota from April 20-22.
"Obviously, we're very pleased by this - especially with our pitching," rookie manager Trey Hillman said. "It's nice to come in here and play this well against a team like that."
Alex Gordon and Mark Teahen homered for Kansas City. Gordon's two-run shot, a 410-foot liner over the bullpen in left-center, put the Royals ahead in the fourth. It was his second of the year.
"We know that Detroit's going to be very good, so we're going to celebrate this sweep," Gordon said. "Hopefully, we can go to Minnesota and do the same thing."
As a highly touted rookie last season, Gordon didn't hit his second home run until April 21.
"We all know that he's got that power in him," Hillman said. "It's nice to see it coming out in the first series of the year."
The Tigers lost their first three games for the first time since 2003, when they began 0-9 and finished with an AL-record 119 losses.
"It's early, but you still care about it," said Placido Polanco, who is 1-for-14. "We're not hitting, and if you don't score runs, you don't win. You worry when you don't win games."
Already missing Curtis Granderson because of a broken hand, the Tigers played without Miguel Cabrera, who is day to day with a quadriceps strain, then saw designated hitter Gary Sheffield tear a tendon in his left ring finger on a play at second in the eighth inning.
"He would have not been able to hit if we came around to him in the ninth," Leyland said. "I don't know how serious it was, but he couldn't bend it."
Brandon Inge ended Detroit's 18-inning scoreless streak with a solo homer in the seventh.
Greinke (1-0) gave up six hits while improving to 7-3 against Detroit. Ramon Ramirez and Joakim Soria finished, with Soria getting three straight outs for his second save.
Jeremy Bonderman (0-1) gave up four runs and eight hits in 6 1-3 innings. He had been 5-0 in eight previous starts against Kansas City dating to April 2006.
"I threw the ball, but I made two mistakes and they punished me," he said.
Detroit had runners in four of the first five innings, but couldn't get anyone past second base.
Teahen made it 3-0 with a two-out homer in the sixth. Magglio Ordonez led off the bottom half with a long double to center, but Greinke got infield popups from Carlos Guillen and Ivan Rodriguez before Edgar Renteria grounded out.
Jose Guillen had an RBI single in the seventh. Rodriguez struck out to end the eighth with a runner on third.
Notes: Detroit set-up man Fernando Rodney was scheduled to throw in the bullpen in Florida on Thursday. He is on the disabled list with shoulder tendinitis ... Polanco had four assists, giving him 900 consecutive chances without an error at second base. Polanco's last error came on July 1, 2006 in Pittsburgh, and he has now broken Luis Castillo's old major-record by 253.
Copyright 2018 The Associated Press. All rights reserved. This material may not be published, broadcast, rewritten or redistributed. We strive to uphold our values for every story published.