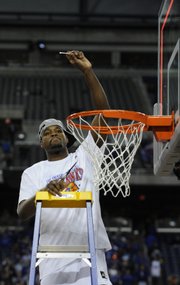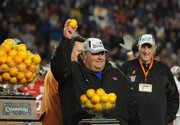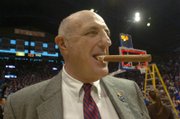 2008 NCAA Tournament
Spodcasters
Final Four tip-off special
Ryan Greene, D.J. Whetter and Kevin Romary hit the studio before heading down to San Antonio to talk about the Roy Williams connection, the Bill Self-OSU rumors that never seem to want to die, who to like in the weekend's other semifinal and the weekly trivia. Oh yeah, and analysis of Saturday's nightcap between the Jayhawks and Tar Heels.
Submit your Final Four fan stuff
Do you bleed blue and crimson? We want your Final Four fan photos and stories.
Gridiron and Hardwood
Kansas is enjoying a super school year with its two high-profile sports, football and men's basketball. Here are some other schools with similar success this decade:
Florida, 2006-07
Football: 13-1, won national championshipBasketball: 35-5, won national championshipNotable: The standard. Two national championships within four months of each other is a dream for every school.
Ohio State, 2006-07
Football: 12-1, lost in national-championship gameBasketball: 35-4, lost in national-championship gameNotable: A tremendous year for the school, but outdone twice by Florida - including a stunner in the football title game.
Maryland, 2001-02
Football: 10-2, lost in Orange BowlBasketball: 32-4, won national championshipNotable: Juan Dixon-led basketball team beat Kansas in Final Four en route to basketball title.
Oklahoma, 2001-02
Football: 11-2, won Cotton BowlBasketball: 31-5, went to Final FourNotable: Hollis Price and the OU basketball team topped Missouri to get to the Final Four. Meanwhile, it was typical 11-win Oklahoma in football.
Texas, 2002-03
Football: 11-2, won Cotton BowlBasketball: 26-7, went to Final FourNotable: An average year by football's standards, but the T.J. Ford-led basketball team made it special for the wealthy athletic department.
Rodrick Stewart watched the Orange Bowl as a big Kansas University football fan on Jan. 3. But after seeing the Jayhawks beat Virginia Tech, 24-21, Stewart's feelings of elation soon subsided.
They were replaced with a bit of anxiety.
"It felt like it was a little more pressure on us," chuckled Stewart, a reserve on KU's men's basketball team. "The football team went so far, and we were like 'Man, now we have to at least go to the Final Four. That's the worst we can do.'
"Now that we're here? We made it this far. Why not try to get the whole thing done?"
Might as well. Every other goal seems to have been met in this incredible year.
KU's two high-profile programs are teaming up to dominate the college sports scene in 2007-08. KU's football team finished a magical season with an Orange Bowl victory and 12-1 record. Not to be outdone, the Jayhawks' men's basketball team secured a Final Four berth on Sunday and will take a 35-3 record into Saturday's game with North Carolina.
It certainly is a special time to be a KU fan. The two revenue sports are a combined 47-4, and basketball still has a shot at capturing the national championship if it wins two this weekend.
Kansas never has come close to this kind of success before, and it makes life good at KU. People walk around the athletic department with smiles. Reporters across the country flock to Lawrence to tell the world about the Jayhawks. It's priceless exposure.
Up in his second-floor office, KU athletic director Lew Perkins calls the school year "just tremendous." Yet he sees 2007-08 as the beginning - not the aberration.
"I'm about as happy as you could possibly be right now because of where we are," Perkins said. "But we still have a lot of work to do.
"I want to make sure everybody understands: We're not finished."
Assembling a run
They have started, though. Perkins, for one, began to get hints of this year's promise last spring.
After KU hoops went 33-5 and fell just short of the Final Four last year, the entire team minus Julian Wright assembled for the 2007-08 season. One important piece, guard Brandon Rush, returned after injuring his knee preparing for an NBA career.
Basketball was fine. Many thought that if Wright's production could be replaced - and it was by Darnell Jackson - that Kansas would have a strong chance at a Final Four. That was realized when the Jayhawks won two in Omaha, Neb., and two more in Detroit to land their invitation to the final weekend.
But football? Now that was a stunner.
Coach Mark Mangino's squad finished a disappointing 2006 season with a 6-6 record and a slew of injuries. A new offensive coordinator came in. A quarterback competition lingered into the summer. Still, Mangino and Perkins talked often, and the coach seemed to brim with confidence about the 2007 prospects.
"He kept saying to me, 'Lew, this is a pretty special team. I really like these kids. I really like what we're doing. I think we can have a great year,'" Perkins said. "Now, did I think in my wildest dreams we'd go on to be 12-1 and play in the Orange Bowl? No. But I thought we could be very good. Mark's done a great job."
Tight family
It's a weekly tradition on Saturdays in the fall. The third quarter of a KU football game rolls around, and basketball coach Bill Self stops by the Memorial Stadium press box to say hello to those he knows.
For the most part, Self obeys the golden rule: No cheering in the press box. But he's slipped once or twice, getting juiced when a big play unfolds or a big hit is unleashed in KU's favor.
Self is a big Jayhawk football fan. Mangino sends the love back to basketball, even showing up in Omaha for the first round of the NCAA Tournament two weeks ago.
"We've really worked hard," Perkins said, "at making this a family."
And of course, giving fans are welcome to join the circle. KU's budget has increased by roughly $25 million since Perkins was hired in 2003, and is around $51 million now.
In addition, facilities have been upgraded as a result of donations, including the building of the Anderson Family Strength Center, the Booth Family Hall of Athletics and the Anderson Family Football Complex.
All are now recruiting tools used to lure in more talent.
"I couldn't be any happier," said Dana Anderson, the namesake of several athletic facilities. "I jokingly told Lew Perkins, 'You know, my investments have certainly paid off. I wish my other investments in this world were doing as well as what KU has done with the money we've gifted there.'"
Anderson and Perkins both point out the obvious: More winning will bring more gifts from jubilant boosters. More money conceivably could lead to even more winning.
It's a cycle KU is happy to be joining.
"If we lose on a Saturday or a basketball game, the bathrooms are bad, the parking is bad, the concessions are bad," Perkins said. "When you win, everything is fine.
"Obviously, people really enjoy giving back when you're winning. But the one thing about Kansas I've really respected is the tradition and history and commitment that our alums at this university have. We couldn't have gotten this far without them."
Sustaining it
Needless to say, Joe Fan is loving this too.
After Kansas football beat Oklahoma State to move to 10-0 last fall, Perkins walked toward the locker room next to the KU cheering section at the corner of Boone Pickens Stadium. The joyful crowd cheered so loudly for him that he had to respond with a pump of the fist.
Perkins is the first to pass the credit on to the coaches and players, saying "all we are is support people."
But Perkins certainly doesn't mind the love.
"I'd rather they be yelling 'Lew, Lew, Lew,'" Perkins says, "than 'boo, boo, boo.'"
Perkins is quick to point out that KU as a one-year wonder is an undesired achievement. Consistency has been talked about constantly in football and proven constantly in basketball, and Perkins is on board.
"We can't sit back and say 'OK, we're here now and it's a one-time thing,'" Perkins said. "We have to be real consistent to have a really good athletic program. We're going to have to work harder and do more things than we've ever done before in order to really be a good athletic program."
That's the future's concern, though.
For now, fans are soaking in KU's historic run, one that surely will be remembered fondly as it ages in memories down the line.
But the incredible thing is, it's not even done yet. KU's basketball team traveled down to San Antonio on Wednesday to prepare for Saturday's Final Four tilt with North Carolina.
It's the last step. The cake has been baked with 47 victories, priceless media exposure and all that joy. The icing could come late Monday night if the basketball team finishes its season with a victory.
Considering how things have played out so far, don't bet against Kansas. It hasn't worked yet.
"The athletic department is really happy and pleased with the way things have been going," KU basketball guard Mario Chalmers said. "Now we've got to go out there and finish it."
Copyright 2018 The Lawrence Journal-World. All rights reserved. This material may not be published, broadcast, rewritten or redistributed. We strive to uphold our values for every story published.