On the street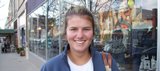 Just some tortilla chips and cheese dip with salsa. I like to be able to snack throughout the game.
You've got your favorite game-day clothing. Check. A place to watch it on a big, crystal-clear screen with awesome speakers. Check.
Your schedule is open, and you're all set up to watch this weekend's Final Four games, featuring the Kansas Jayhawks. Check.
If that's all you've thought about, you're going to be disappointed, and, well, hungry.
Kansas University games during the NCAA tournament can mean up to 70 percent more business than any regular old night, local restaurants report. That means lots of folks with the same crimson-and-blue cravings during this Saturday's Final Four games and Monday's national championship game.
But even last minute, it is possible to chow down in style, say restaurant and store managers - home or away, game-time food can be tasty, timely and the perfect match-up for tip-off.
Game-time rush
Game-time eating is big business, and the Jayhawks are the major catalyst says Sarah Jiwani, manager at Pyramid Pizza, 701 W. Ninth St.
"It's usually only when we play - KU plays- is when we see a big increase. Anywhere from probably 50 to 70 percent increase in business. It's quite a jump," Jiwani says. "Unfortunately for basketball, (sales are) centered around game time, so two hours before, two hours after is when we see those spikes."
And Matt Llewellyn, manager at 23rd Street Brewery, 3512 Clinton Parkway, also reports a game-time crunch.
"We'll fill up about a half-hour before game time, and it's usually hard to get a seat during the game," Llewellyn says, adding that for the Jayhawks' opening-round game, a lunchtime game on a spring break Thursday, March 20, sales spiked 25 percent over the previous Thursday.
Tim Agnew, general manager of Buffalo Wild Wings Grill & Bar, 1012 Mass., says that he also sees such spikes. The restaurant often crunches in as many as the fire marshal will allow: 257 people.
"It's huge. It's a typical game day for us," Agnew says of tournament time. "We can only fit so many people and we run to capacity most of the time."
And what are those elbow-to-elbow fans enjoying while they've got their eyes glued on the big screen?
"To tell you the truth, the alcohol sales go up on game days. People still absolutely order the wings and chicken tenders and burgers, those are the big sellers on game days, not so much on the pasta dishes or entrees," Llewellyn says. "It's much more appetizer-type stuff."
Enjoying the game at home
For the folks who plan on enjoying that appetizer-type stuff at home, local grocery stores are prepped for the pre-game munchies rush. Scott Wempe, assistant manager of store operations for the Hy-Vee at 3504 Clinton Parkway, says the store's display for March Madness rivals its Super Bowl display.
"Chips and cheese dips, Rotel, beers, sodas, snack foods like Chex mix type stuff, cheese and crackers, got all that kind of stuff in the display we have right now for March Madness," Wempe says. "We set our displays a lot in the same way as we do for the Super Bowl and it seems to work out pretty well the same way."
Wempe says the national companies, like local companies, benefit from the Jayhawks.
"There are certain ones that are affiliated with the tournament, but there's a lot of them who try to get into it, like the cracker companies," Wempe says. "Frito-Lay, they provide a lot of the signage and stuff we have to display those kind of the things. A lot of the companies get involved in it."
Planning ahead
For those fans who want to have some carryout or delivery with their home-hosted party this weekend, Jiwani offers some game-day tips to ordering out. Despite the increase in business, Jiwani says there are ways to make sure your delivery or pickup doesn't show up at the wrong time.
"The best thing you can do is you can call and you can make an order at any time of the day and say specifically, 'I want my pizza delivered to me at 7 p.m.,'" she says. "We definitely take those orders seriously and will get those to you within a 15-minute time window of what you would like."
Jiwani says that any KU game day - NCAA tournament or otherwise - the restaurant staffs extra delivery drivers, aiming to get orders to customers' doors within 45 minutes to an hour despite the heavy order traffic. Of course, Jiwani knows many of her employees and pickup customers much rather be glued to the TV than carting around pizzas.
"Our delivery drivers are coming in and out and they can catch glimpses of the games, if they get a second, and they really appreciate that because a lot of them do sacrifice working here instead of (being) at home watching the game with their friends," Jiwani says. "And we make it available for our customers too, if they want to come in and sit down and watch the game and eat some pizza then that's there for them, too."
KU in or out
Of course, it's much harder to get customers in watching the games and much easier for delivery drivers to stick to their rounds when Kansas isn't in the tournament. Agnew recalls the NCAA Tournaments of 2005 and 2006, when the Jayhawks lost in the tournament's opening rounds.
"It seems that the interest in the tournament fell off quite a bit," he says, sighing.
Adds Llewellyn: "It's always a good thing when the Jayhawks are in the tournament."
Snack ideas
Southwestern grilled chicken wings
2 pounds chicken wings
2 tablespoons butter, melted
2 tablespoons hot pepper sauce
1 teaspoon cumin
2 tablespoons fresh cilantro, chopped
2 tablespoons lime juice
Black Bean Dip
1/2 cup cooked black beans, drained
1/4 cup prepared salsa verde
1/4 cup sour cream
1 tablespoon lime juice
2 teaspoons hot pepper sauce
2 teaspoons fresh cilantro, chopped
1/2 teaspoon salt
Prepare gas or charcoal grill, or preheat broiler. While grill is heating, prepare black bean dip by placing beans, salsa verde, sour cream, 1 tablespoon lime juice, 2 teaspoons hot pepper sauce, 2 teaspoons chopped cilantro and salt in blender or food processor. Process until smooth. Set aside.
Place chicken wings on grill and cook over low heat, turning until cooked through, about 10-12 minutes per side. Place wings in bowl and coat with melted butter. Add hot sauce, cumin, cilantro and lime juice. Toss well to coat.
Serve with dip.
- National Chicken Council
Italian nachos
1 package of pita chips (4 ounces)
1 cup pesto Parmesan shredded cheese, seasoned according to package directions
1/4 cup prepared salsa
1/4 cup roasted red pepper, drained, chopped
1/4 cup sliced pepperoncini peppers, drained
1/4 cup green onions, chopped
Preheat oven to 400 degrees. Arrange chips in bottom of a shallow baking dish. Sprinkle seasoned cheese evenly over chips. Bake uncovered for 10 minutes or until cheese is melted. Mix salsa, roasted red pepper, pepperoncinis and onions; spoon over top pita chips and cheese.
- Recipe from Borden Inc.
Caramel peanut popcorn
3 to 4 quarts popped corn
2 cups roasted, salted shelled peanuts
1 stick butter
1/2 cup brown sugar
1/2 cup light corn syrup
2 tablespoons molasses
Line a baking sheet with parchment paper. Lightly coat a wooden or other large spoon with cooking spray. In a large bowl, combine the popcorn and peanuts. Set aside.
In a saucepan over medium heat, melt the butter. Add the brown sugar, corn syrup and molasses. Bring to a boil and cook, without stirring, until the mixture reads 300 degrees on a candy thermometer.
Pour the syrup over the popcorn and peanuts, using the prepared spoon to toss the mixture until evenly coated. Transfer the mixture to the prepared baking sheet.
Let the popcorn cool, then break into small chunks.
- The Associated Press
Chili lime roasted peanuts
2 tablespoons peanut oil
2 tablespoons lime juice
1/2 teaspoon chili powder
1 teaspoon cumin
1 tablespoon sugar
2 tablespoons kosher salt, divided
4 cups roasted shelled peanuts (not salted)
Preheat oven to 450 degrees. In a large bowl, combine the oil, lime juice, chili powder, cumin, sugar and 1 tablespoon salt. Add the peanuts and toss well to coat.
Use a slotted spoon to transfer the peanut to a rimmed baking sheet, arranging them in a single layer. Roast, stirring once, for about 8 minutes.
Remove the baking sheet from the oven and sprinkle the peanuts with the remaining tablespoon of salt. Let cool to room temperature before serving.
- The Associated Press
Copyright 2018 The Lawrence Journal-World. All rights reserved. This material may not be published, broadcast, rewritten or redistributed. We strive to uphold our values for every story published.