2008 NCAA Tournament
Press Conferences & Post-Game Interviews
Bill Self's April 1 pre-Final Four press conference
KU coach Bill Self met with the media in Hadl Auditorium Tuesday to discuss the upcoming Final Four, in which his team is part of history, with all four one-seeds having advanced to San Antonio. Self talked in-depth about gameplanning for North Carolina, plus again denied rumors that he will leave Kansas the end of the year to take over at his alma mater for Sean Sutton, who resigned earlier in the day as the Oklahoma State men's basketball coach.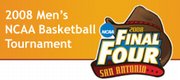 Get your March Madness fix at KUSports.com.
Five seniors, including two starters and one key reserve, plus four non-seniors who were McDonald's All-Americans, plus Brandon Rush. Quick and fast at all five positions. Inside-outside scoring balance. Excellent team defense. Share-the-ball offense.
Talk about a team built for a national title. So why are the Jayhawks considered the biggest underdogs in San Antonio? Because this is the deepest Final Four in history, and purely from a talent standpoint, Kansas ranks fourth in the field.
What a refreshing change for a team that carries expectations of executing a slaughter nearly every time it takes the court.
In a way, Saturday's Final Four semifinal against North Carolina calls to mind that Nov. 25, 2006, game in Las Vegas against favored defending national champion Florida. Without the burden of expectations, Kansas played so aggressively that night.
"I can only remember two games in my whole career we weren't the favored team," point guard Russell Robinson said. "That was the Florida game, and the Texas game in the Big 12 championship, my sophomore year. I like it when we're like that. We're a different team when we're like that. It takes a lot of pressure off guys. It's going to be a great game, and I think a lot of guys are looking forward to it."
Whether there were other games KU was the underdog during Robinson's four years isn't the point. The point is it happens so seldom he could only recall two games, and he liked the outcome of both.
Teams always like to play the no-respect angle, a tough one to pull off in the first Final Four guaranteed to crown a No. 1 seed as national champion. Yet, if anyone can lay claim to Rodney Dangerfield status, it's Kansas.
The other three schools had a first-team All-American: Chris Douglas-Roberts (Memphis), Tyler Hansbrough (North Carolina) and Kevin Love (UCLA). Darren Collison (UCLA) and Derrick Rose (Memphis) earned third-team honors. No Jayhawks were so honored.
For all the constant chatter of early NBA exits surrounding this KU team, it's expected to be the last of the four schools to have a player selected in the next draft.
Draftexpress.com is as good as any Web site at forecasting the NBA Draft, which is to say it's not as inexact as the rest. The site projects two players from each Final Four team going in the first round. According to the site's guesses, Memphis and UCLA will have two players chosen before the first KU player leaves the board, and North Carolina will have one, and his name is not Hansbrough.
As of Tuesday, draftexpress.com had Rose going second. Douglas-Roberts was projected to go 22nd. Love is picked to go ninth, four spots ahead of Collison. North Carolina point guard Ty Lawson is projected at No. 17. Nos. 23 through 25 all are Final Four players: Darrell Arthur, Hansbrough, Rush. The Web site projects UCLA sophomore guard Russell Westbrook as the No. 7 selection in the 2009 draft.
The underdog role not only should help Kansas play loose, but with a bit of chip.
"I still think we have the best team in the country and now here's our chance to prove it," Robinson said.
Kansas 83, North Carolina 80.
Copyright 2018 The Lawrence Journal-World. All rights reserved. This material may not be published, broadcast, rewritten or redistributed. We strive to uphold our values for every story published.