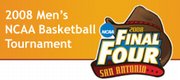 Get your March Madness fix at KUSports.com.
Roy Williams was talking about the inevitable day when Tyler Hansbrough says goodbye to North Carolina and hello to the riches that await him in the NBA.
Williams isn't sure when that day will come, but he's coached long enough to understand that this particular rite of spring is now as much a part of college basketball as the bands playing the school song. Players come and go, and the best usually go long before their scholarships run out.
Williams then goes out to recruit some more to take their place, and the cycle repeats itself. No hard feelings, it's just part of the job.
Until it comes to Hansbrough, that is.
"When that young man takes the Carolina blue uniform off and doesn't put it on, I'm going to sit on top of the Smith Center or whatever and sit there for an hour and realize how lucky I am to have coached that youngster," Williams said.
That could happen as early as Saturday night, if the Tar Heels aren't on their game in the national semifinal against Kansas. Or it could come two nights later after they're done cutting down the nets and hugging every cheerleader in sight after winning the national title.
Or maybe, just maybe, it could be another year before Hansbrough picks up a degree in communications study and signs for millions to play in a league where skills are usually more prized than heart.
If so, we'll be the lucky ones. Because we will have had the pleasure of watching the poster child for what college basketball should be for four whole seasons.
In an era of one-and-outs where college is merely a place to spend a few months showing off skills for NBA scouts, Hansbrough is a throwback to another time. He's not only finishing his junior season, but his father jokingly said the other day that North Carolina might have to redshirt him to get him to leave school.
It helps that his father is an orthopedic surgeon and the family is in no need of money, but come on. Guys just don't get selected to the Associated Press All-America team on unanimous votes like Hansbrough did Monday and stick around the next year to play for trophies.
Kansas State's Michael Beasley was also an unanimous selection as a freshman, and is there anyone who doesn't think he's going to take the money and run?
NBA scouts will tell you Hansbrough may not be the most talented player on his team, much less in his class. They drool when they see Beasley or Derrick Rose of Memphis, but merely watch appreciatively when they see a classic overachiever like Hansbrough spilling his guts and sometimes his blood on the basketball court.
He learned his work ethic early by watching his older brother, Greg, work to walk and talk again after surgery for a brain tumor. Compared to that, seeing how many shots you can make in one basketball practice is child's play.
There's no debating his heart, but the debate rages over what kind of pro Hansbrough will make. He plays every play like it is his last, and that could be a problem in a league where the season never seems to end. He's also a power forward in a small forward's body, not big enough at 6-foot-9 to bang with the big men or quick enough to keep out of their way.
Copyright 2018 The Associated Press. All rights reserved. This material may not be published, broadcast, rewritten or redistributed. We strive to uphold our values for every story published.