2008 NCAA Tournament
Press Conferences & Post-Game Interviews
Bill Self's April 1 pre-Final Four press conference
KU coach Bill Self met with the media in Hadl Auditorium Tuesday to discuss the upcoming Final Four, in which his team is part of history, with all four one-seeds having advanced to San Antonio. Self talked in-depth about gameplanning for North Carolina, plus again denied rumors that he will leave Kansas the end of the year to take over at his alma mater for Sean Sutton, who resigned earlier in the day as the Oklahoma State men's basketball coach.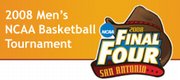 Get your March Madness fix at KUSports.com.
The following is a look at the seasons in which a Big 12 Conference men's basketball team has reached the Final Four and how the last weekend of those seasons played out.
Although the conference has been around since the 1996-97 season, it has yet to see a basketball school crowned as champion.
Kansas, making its 13th Final Four appearance of all-time and third in the Big 12 era, has a shot to be the first this weekend in San Antonio, Texas.
2002
Big 12 Participants: Kansas and Oklahoma
Others: Indiana and Maryland
Outcome: Maryland defeats KU, 97-88; Indiana defeats OU, 73-64; Maryland defeats Indiana, 64-52, for title.
Most Outstanding Player: Juan Dixon, Maryland
2003
Big 12 Participants: Kansas and Texas
Others: Syracuse and Marquette
Outcome: KU defeats Marquette, 94-61; Syracuse defeats UT, 95-84; Syracuse defeats KU, 81-78, for title.
Most Outstanding Player: Carmelo Anthony, Syracuse
2004
Big 12 Participant: Oklahoma State
Others: Georgia Tech, UConn and Duke
Outcome: G-Tech defeats OSU, 67-65; UConn defeats Duke, 79-78; UConn defeats G-Tech, 82-73, for title.
Most Outstanding Player: Emeka Okafor, UConn
2008
Big 12 Participant: Kansas
Others: North Carolina, Memphis and UCLA.
Outcome: ????
Copyright 2018 The Lawrence Journal-World. All rights reserved. This material may not be published, broadcast, rewritten or redistributed. We strive to uphold our values for every story published.