Scot Buxton on Roy Williams
2008 NCAA Tournament
Audio Clips
Bill Self and Roy Williams in Monday's Final Four teleconference
We want your KU stories
Do you have a room in your home that's, well, essentially a shrine to Jayhawk basketball? Did you change your T-shirt during the KU-Davidson game because the one you had on really wasn't your luckiest shirt?
Clearly, you're a fan - better yet, a fanatic. And we'd like to hear your story. Just drop an e-mail to editor@ljworld.com.
And if you're taking off for San Antonio, don't forget to e-mail us your road trip photos - and your Final Four experiences.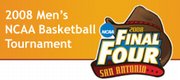 Get your March Madness fix at KUSports.com.
Randy Towner plans to hunker down at the newly remodeled 19th Hole lounge at Alvamar, unable to decide whom to cheer for.
Mike Davis intends to duck into the Alamodome sporting an orange outfit, seeking refuge in a seating section neither dominated by crimson and blue nor awash in Tar Heel blue.
And Scot Buxton? He'll be one of the few people ducking into a screening of "21" at Hollywood Theaters, simply unable to watch the titanic face-off between his favorite team and one of his best friends.
Kansas vs. Roy Williams? The suspense simply would be too much.
"I will probably be the only person in Lawrence, Kansas, that will not watch this game," said Buxton, who plans to set his DVR so that he can watch the contest; he'll get the final score as soon as he leaves the movie. "It probably is a little bit like pulling off a Band-Aid. If you do it one hair at a time, it would be very painful - because I want the best for KU, but I also want the best for my best friend. And you can't have 'em both, so I can't watch this one. :
"Yes, it's exciting, but it also tears your heart out."
For other people with Lawrence and KU ties, the big event - the Jayhawks vs. North Carolina in the Final Four - can't come soon enough. The 7:47 p.m. Saturday tip-off finally will give Jayhawk Nation an opportunity to match wits with Roy Williams, the man who coached its beloved Jayhawks for 15 years before taking over at his alma mater in Chapel Hill, N.C.
Yet while some in Lawrence and elsewhere in the KU universe will never forgive Williams for leaving the nest at Mount Oread, some of his best friends still live and work here.
And they're admittedly walking a tough line this week.
'I've got a problem'
For Davis, who's been on the KU law faculty for 37 years, it means sitting behind the desk in his office and avoiding taunts from his colleagues, staffers and students. They know he possesses a certain affinity for North Carolina, where his wife went to school and lettered in two sports, and their son, Adam, graduated and covered sports for the campus newspaper.
"I've always been a Jayhawk fan," he said Monday, seemingly from under his desk, "and now I've got a problem."
But he's happy to get the chance to see in-person both his favorite team - the Jayhawks - and his friend Williams coach the Tar Heels on Saturday night. Davis, it turns out, has done legal work for the National Association of Basketball Coaches, and as such gets a Final Four ticket each year, plus the opportunity to buy another.
Good thing, too: He won't have to sit with his wife's fellow fanatic fans, his friend's family, or his employer's boisterous backers - some of whom still may be bent out of shape over the family man's decision to go back home to his roots.
"I don't have a lot of patience for people who need to be healed, pardon the pun," Davis said of fans still bitter about Williams' breakup with KU after the 2003 Final Four. "To the extent they needed to be healed, it needed to happen in about two weeks instead of five years.
"I would hope the extra fervor that comes from KU fans might come from playing the No. 1 team in the country, instead of who might be jumping up and down on the sideline."
Brotherly bond
Davis was among a group of Williams' friends who were visible around town, donning running gear in the cold of winter and heat of summer both to stay fit and stay sane.
Also in the group: Towner, now director of golf operations at Alvamar Golf and Country Club in Lawrence.
Towner isn't about to pick sides in this battle of friends, but he does concede that while he may not be rooting for Ty Lawson or Tyler Hansbrough, he certainly will be pulling for the superstitious guy in a suit.
"I will be rooting for my friend, and almost brother," Towner said. "Blood is pretty thick."
Towner and Williams have been friends since they both arrived in Lawrence in the late 1980s, and they still play golf together. They've teed it up at some of the greatest courses in America - Pinehurst No. 2, Pebble Beach Golf Links, Medinah outside Chicago - and don't plan on ever stopping.
But Towner won't be going to San Antonio to watch the game. If he went, he'd be forced to sit in some of the best seats Carolina has to offer.
Towner, who wouldn't qualify for seats through KU's donor points system, declined his friend's offer to get him tickets.
"I would be getting them from the other Williams fund," Towner said with a chuckle.
'I can't lose'
Buxton, another running and golfing buddy, also declined a chance to attend Saturday's game. No sense, he figures, in mixing emotions in a world where the harsh reality was bound to come someday.
"We knew it would happen sooner or later," Buxton said. "I just wish it would have been Monday night instead of Saturday."
So instead he'll set his DVR at home to record the game, and make the drive to the South Wind 12 to catch "21," the movie about a group of college students beating the odds and outsmarting Vegas casinos in blackjack.
Buxton even told Williams on Sunday that he simply couldn't stand to make the trip for the semifinal. Sitting in the Carolina section might not look good for a guy who makes his living in Lawrence, for a company that sells insurance.
"I know exactly what you mean," Williams told him, according to Buxton. "I was trying to figure out what I would do if we didn't win."
Turns out Williams would have entertained sitting with KU fans at the Alamodome, Buxton said, had the Tar Heels not qualified.
So Williams offered a compromise: "Why don't you come down for Monday's game, because you can cheer for whoever's playing?"
Buxton - already looking forward to joining Williams, Towner and other friends for a round of golf this May in Scottsdale, Ariz. - knew he was speaking to a true friend, one who knows how to help in a tough situation.
"So yeah, I'll probably go Monday," Buxton said. "I can't lose."
Copyright 2018 The Lawrence Journal-World. All rights reserved. This material may not be published, broadcast, rewritten or redistributed. We strive to uphold our values for every story published.