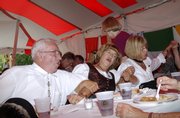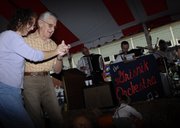 Rob Hedrick returned to his hometown just for Saturday's Oktoberfest put on by St. John the Evangelist Catholic Church. He came from his residence in Chicago prepared to celebrate his ancestry.
Dressed in his lederhosen with a German beer in hand, Hedrick, a Kansas University graduate and former St. John's parishioner, was ready for a good time.
Ellen Shobe, chairwoman of the Oktoberfest committee, said about 200 volunteers helped prepare and run the festival. Volunteers also helped make enough food to feed more than 1,000 people. Shobe expected more than 2,000 people to have attended this year's festival. The German spread included wienerschnitzel, bratwurst and sauerkraut.
The celebration began with a Polka Mass before it moved into the church parking lot, where polka music, dancing and other activities took place.
Al and Marcy Mauler, of Lawrence, were ready to show off the polka skills they have perfected over 20 years. Marcy Mauler had her first opportunity when she danced out of the church with Father John Schmeidler to the "Beer Barrel Polka," before standing in line for food. She was dressed in a handmade green German dress with bright floral embroidery and red tights. She made the dress out of fabric that her husband, Al, bought for her 36 years ago when he was visiting Germany.
The festival, like the Mexican Fiesta, is a way that St. John's raises money for its church and school and is also a way to celebrate the ethnic range of its parishioners, Marcy Mauler said.
She said Father John, of St. John's, and Father Charles Polifka, formerly of St. John's, are both from Hays, a large German area.
"We just started it as a way to provide a day of fellowship for the church, and it's grown into a huge community event," she said.
Copyright 2018 The Lawrence Journal-World. All rights reserved. This material may not be published, broadcast, rewritten or redistributed. We strive to uphold our values for every story published.