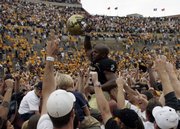 Boulder, Colo. — Oklahoma coach Bob Stoops envisioned it going down to the wire. Colorado's Dan Hawkins had a hunch his team would pull off the big upset.
Both coaches turned out to be correct, and Hawkins' Buffaloes dealt a serious blow to the Sooners' national title hopes when Kevin Eberhart kicked a career-long 45-yard field goal as time expired to send Colorado past No. 3 Oklahoma, 27-24, on Saturday.
"I told them all week they're going to win the game," Hawkins said. "Not because I'm 'The Swami.' I've done this for 25 years, and you just know. You know when your team's ready, you know when you're poised."
His players certainly didn't doubt his weeklong declarations of this impending upset.
"He just reinforced what we already knew," defensive tackle George Hypolite said.
This was the Buffaloes' first win over a top-five team since Dec. 1, 2001, when they bested Texas in the Big 12 title game, and their most significant victory in Boulder since a 62-36 drubbing of second-ranked Nebraska a week before that Texas win.
"They outplayed us and outcoached us," Stoops said. "They fought their way to a heck of a win."
After Eberhart's kick cleared the crossbar, the Sooners, who had blown a 24-7 second-half lead, walked off dejected, trying to avoid the onslaught of Buffs fans storming the field in celebration of what they hope is a revival of the once-proud program.
"My helmet got jacked and (wide receiver) Stephone Robinson took one in the eye," Buffs quarterback Cody Hawkins said. "I've been to some crazy concerts, but that was worse than all of them. ... I think people smelled a lot better at the concert. Those people had been sweating for a long time."
Not so the Buffs, who didn't flinch when they fell behind by 17 points in the second half.
The Sooners (4-1, 0-1) came in averaging a whopping 61.5 points to lead the nation. But behind a tough defense, the Buffs (3-2, 1-0) earned their first big win under Dan Hawkins, who went 2-10 in his inaugural season last year.
The Buffaloes trailed 24-7 after Allen Patrick scored from 17 yards out following safety D.J. Wolfe's second interception. His first one led to Juaquin Iglesias' 13-yard TD catch in the first half.
But Oklahoma, which had scored 50-plus points in each of its first four games, was stifled after that, and Colorado outgained the Sooners 219 yards to 56 in the second half.
"There was no one being Superman out there, there's no one doing things that were supernatural," said linebacker Jordon Dizon, the nation's leading tackler. "It was just everybody doing their job and doing the right thing when they had to do it."
"To me it was long overdue. I mean long, long overdue," Buffs senior cornerback Terrence Wheatley said. "To get a big win against a big team in the national spotlight? I think it's good for us so people can realize we're a good team."
Good? Dizon cringed.
"We're on the verge of being great," he suggested.
Colorado began its comeback with Eberhart's 41-yarder to make it 24-10 in the third quarter.
After Ryan Walters picked off Sam Bradford, Hawkins hit Tyson DeVree for the score on fourth-and-goal from the 4, pulling Colorado to 24-17 on the first play of the fourth quarter.
Bradford, who was the second rated passer in the nation entering the game, finished 8-for-19 for 112 yards with two interceptions and was outplayed by the Colorado coach's son.
Cody Hawkins, a red-shirt freshman, was 22-for-36 for 219 yards and two touchdowns.
"We knew we were going to have a chance to win," Hawkins said. "We didn't know how it was going to happen."
Copyright 2018 The Associated Press. All rights reserved. This material may not be published, broadcast, rewritten or redistributed. We strive to uphold our values for every story published.