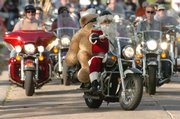 A gang of motorcycle riders took over Massachusetts Street on Saturday with Santa Claus in the lead.
The riders from across the region had one goal in mind: to ensure Douglas County children would have a Christmas gift this year.
The riders, clad mostly in black leather and bandanas, may be the most gentle and giving group of people Mary Jones knows.
"They have big hearts," Jones, the county's Toys for Tots coordinator, said at South Park, where the Tour for Tots parade began.
Lonnie Hawkins, of Topeka, and a rider with the Christian Calvary Ministries bike club, said he joins any benefit ride that comes along.
"It's a great feeling," he said. "It's always good to help our brothers and sisters, whether it's for a bike club event or for a kid who's not getting a toy for Christmas."
The Second Annual Bikers' Tour for Tots, which kicks off the year's toy drive, requires every rider - and this year had 115 - to donate one new toy to a child who may never receive anything new at Christmas. Jones said seven large boxes of toys were collected.
Amy Gottschamer was chairwoman of the Tour for Tots committee. The tour started in the afternoon with a 50-mile "Slow Ride" in North Lawrence at the Riverfront Harley Davidson Store, 608 N. Second St., and on to Kansas Highway 10.
Santa Claus, or Carl Cline, a Lawrence Realtor, led the parade along Massachusetts Street, with his toy behind him, a giant teddy bear complete with a red ribbon around his neck.
Their final destination was the Slow Ride Roadhouse, 1350 N. Third St., for a chili feed. Prizes were given out at the restaurant, and a 50-50 pot helped them collect extra money.
Jones said the event grew this year by 30 riders. She hopes that it continues to grow and that next year she may even see some elves join the ride.
Toys will be distributed in December from a toy shop at the Douglas County 4-H Fairgrounds.
Copyright 2018 The Lawrence Journal-World. All rights reserved. This material may not be published, broadcast, rewritten or redistributed. We strive to uphold our values for every story published.