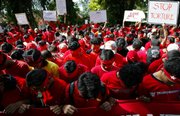 Yangon, Myanmar — Soldiers and police took control of the streets Friday, firing warning shots and tear gas to scatter the few pro-democracy protesters who ventured out as Myanmar's military junta sealed off Buddhist monasteries and cut public Internet access.
On the third day of a harsh government crackdown, the streets were empty of the mass gatherings that had peacefully challenged the regime daily for nearly two weeks, leaving only small groups of activists to be chased around by security forces.
"Bloodbath again! Bloodbath again!" a Yangon resident yelled while watching soldiers break up one march by shooting into the air, firing tear gas and beating people with clubs.
Thousands of monks had provided the backbone of the protests, but they were besieged in their monasteries, penned in by locked gates and barbed wire surrounding the compounds in the two biggest cities, Yangon and Mandalay. Troops stood guard outside and blocked nearby roads to keep the clergymen isolated.
Additional troops arrived in the two cities overnight. Soldiers and police were stationed on almost every street corner in Yangon.
Shopping malls, grocery stores and public parks were closed, and only a handful of residents ventured out.
The monks remained inside their monasteries late this morning with troops remaining on guard outside and blocking nearby roads. The streets of the Yangon and Mandalay were quiet.
Many Yangon residents seemed pessimistic over the crackdown, fearing it fatally weakened a movement that began nearly six weeks ago as small protests over fuel price increases and grew into demonstrations by tens of thousands demanding an end to 45 years of military rule.
The corralling of monks was a serious blow. They carry high moral authority in this predominantly Buddhist nation of 54 million people and the protests had mushroomed when the clergymen joined in.
"The monks are the ones who give us courage. I don't think that we have anymore hope to win," said a young woman who had taken part in a huge demonstration Thursday that broke up when troops shot protesters. She said she had not seen her boyfriend and feared he was arrested.
Hundreds of people have been arrested, including Win Mya Mya, an outspoken member of the country's main opposition group, the National League for Democracy, who was taken overnight, according to family members.
Anger over the junta's assaults on democracy activists seethed around the globe. Protesters denounced the generals at gatherings across the United States, Europe and Asia.
The White House urged "all civilized nations" to pressure Myanmar's leaders to end the crackdown. "They don't want the world to see what is going on there," White House spokesman Scott Stanzel said.
But analysts said it was unlikely that countries with major investments in Myanmar, such as China and India, would agree to take any punitive measures. The experts also noted that the junta has long ignored criticism of its tough handling of dissidents.
Defiant of international condemnation, the military regime turned its troops loose on demonstrators Wednesday. Although the crackdown raised fears of a repeat of a 1988 democracy uprising that saw some 3,000 protesters slain, the junta appeared relatively restrained so far.
The government has said police and soldiers killed 10 people, including a Japanese journalist, in the first two days of the crackdown.
Diplomats and British Prime Minister Gordon Brown said Friday the junta's figure probably was greatly understated, based on the reports of witnesses and others. They provided no estimates of their own and cautioned that witness reports had not been verified.
Getting accurate casualty figures has been difficult, with many residents too afraid to speak out and foreign journalists barred from openly entering Myanmar. Soldiers and police were going door-to-door at some hotels in Yangon looking for foreigners.
Copyright 2018 The Associated Press. All rights reserved. This material may not be published, broadcast, rewritten or redistributed. We strive to uphold our values for every story published.