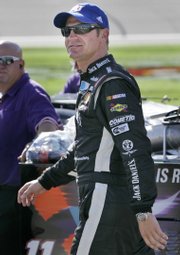 Kansas City, Kan. — Kansas Speedway may be considered Clint Bowyer's "home track," but you wouldn't pick that up from talking to the Emporia native.
Bowyer, who currently is fifth in the NASCAR's Chase for the Nextel Cup, is approaching Kansas Speedway this weekend just like any other track.
"I'm looking forward to getting going and seeing what we've got with the Jack Daniels Chevrolet," said Bowyer, who finished ninth in last year's race at Kansas. "It's so important to unload at these 1.5-mile race tracks. You're so limited on practice time that you've got to unload good. So I can't wait to get out there and see what we've got."
Friday, Bowyer planned to visit the track where he started making a name for himself: Lakeside Speedway in Kansas City, Kan.
"More and more it seems like a lot more people are coming, and it's important to see all those people and spend some time with them," Bowyer said. "It makes it tough, but it's so much fun to go back to your old stomping grounds and race. We've had some success. We were fast the other night. We didn't end up winning, but they knew we were there.
"Lakeside is going to be fun. I've never raced a Late Model back here. I brought my Late Model back from North Carolina, and I'm looking forward to seeing what I've got."
Bowyer is taking Richard Childress Racing teammate Kevin Harvick out to Lakeside to race Bowyer's Modified car on the dirt track.
While the Kansas kid doesn't really connect himself with Kansas Speedway, he hasn't forgotten his roots.
"I grew up racing around here, and to be able to see the people that I used to race against here supporting me, and about all my family is here and people from my hometown," Bowyer said. "There are just so many people coming from Emporia. That's important. It's so exciting to be able to race for those people and hopefully put on a good show for them."
But Bowyer isn't the only NASCAR driver returning to the area that propelled him to NASCAR success. Carl Edwards, a native of Columbia, Mo., is situated one spot behind Bowyer in the Chase for the Cup and seems just as excited as Bowyer to see familiar faces.
"It does feel a little bit more personal, racing here," Edwards said. "I look at the stands right now, and I look at the fans lined up at the fence, and I'm trying to pick out people I know, and there are a lot of people I know here. I think, for Clint and I, it is an opportunity to just have a killer weekend. That would be killer."
The two sophomores in the Nextel Cup Series already have done some damage in the first two races of the Chase for the Cup. In the first week at New Hampshire Speedway, Bowyer earned his first victory in the Nextel Series. Edwards came away from Dover with the checkered flag last week.
"I think the neatest thing about that is the fact that the first two races of the Chase have been won by the Midwestern boys, and rolling into Kansas with both the first races won by us says a lot about our local community and who we grew up learning from," Bowyer said.
Copyright 2018 The Lawrence Journal-World. All rights reserved. This material may not be published, broadcast, rewritten or redistributed. We strive to uphold our values for every story published.